I hope you all enjoyed the last bank holiday weekend in the sunshine last week! We returned,  to a productive week at school. Let's open with Episode 4 of #DwightTV!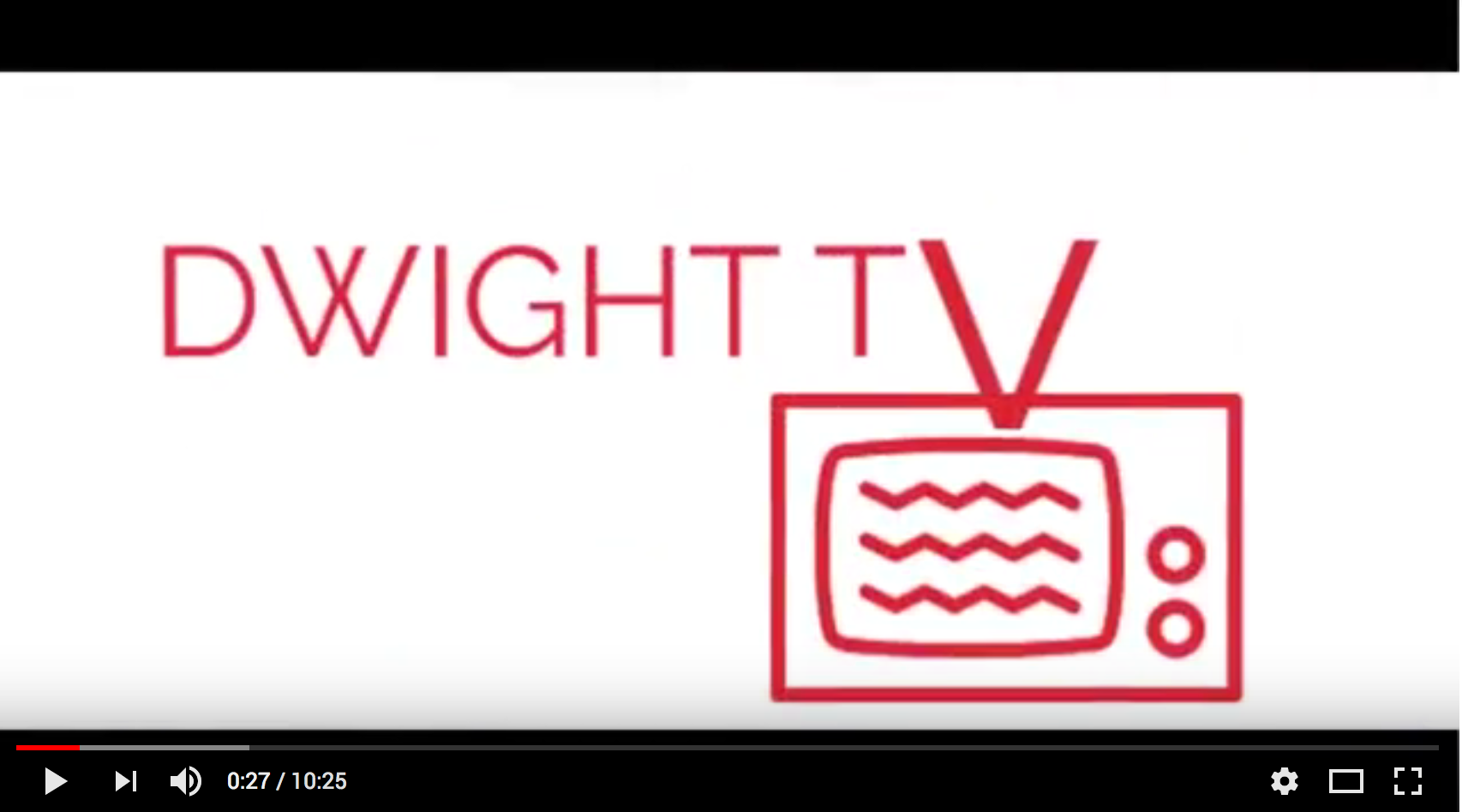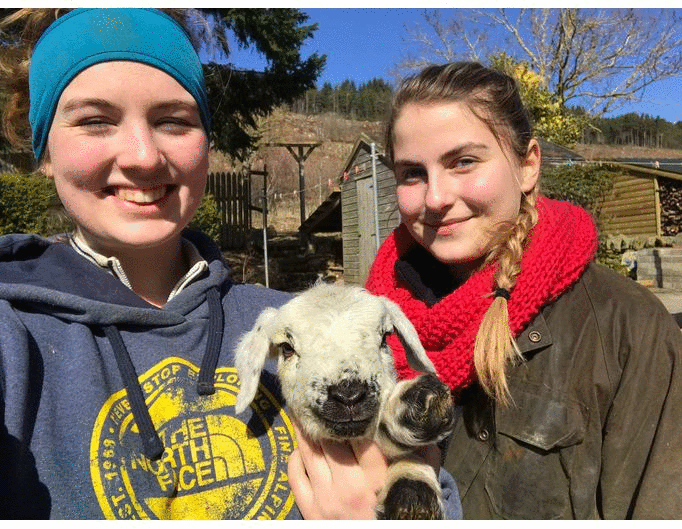 Work Experience                                      
The students and staff have worked  hard  this year in finding challenging work experience placements for our senior students to experience careers and learn about the world of work. This can happen at any time throughout the year but we  focus efforts for all of M5 in late June.
Examples so far have included Tarkan in M5 who took a placement at Boots the Chemist over Easter.
Tarkan writes, For two weeks I worked at Boots pharmacy on Chingford Mount where I dealt with deliveries of meds to the pharmacy, prepared clients' prescriptions and, in the process, found out about specific substances and their use in treating a variety of conditions. I had to input prescription related info into the online system which interfaces with GP surgeries on the one hand and patients on the other and helped organise the store floor. I must admit that standing on my feet for 8-9 hours a day was a bit of a shock to the system in the beginning, but I got used to it very quickly. I had a fantastic time!

D1 students continue to independently find work experiences in careers they aspire to. Orabella spent her Easter holidays in northern Scotland working on a farm during the lambing season as part of her plans to become a veterinary surgeon. Helping to deliver young lambs is an emotional and challenging experience and we're really proud of the dedication she has shown. Orabella said, This was one of the best experiences of my life. I learnt more than I could have hoped for. I learnt so many practical skills that I can now take with me for the future.
We have almost completed the programme of M5 work experiences for June and these include Alice working for a European Bank, Nick working in Engineering at Imperial College London, Jules working as a PE teacher in another international school, Mira in pharmaceuticals and I am very pleased for Luke, Vicky and Abdullah who will each spend a week working alongside transplant surgeons at Guy's and St Thomas' Hospital. If your M5 son or daughter has not yet secured a place, please contact Ms. McCaffrey at the school to see if we can get the final places secured.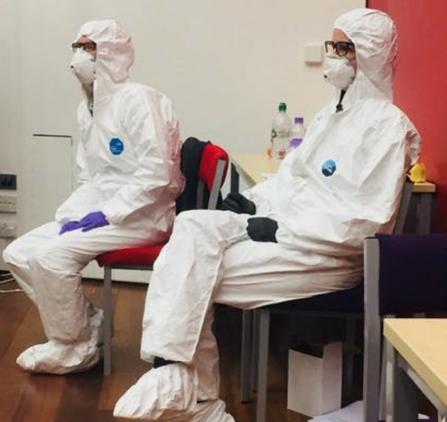 A career in forensic science?
Another example of careers advice is sending students out to meet the professionals at events. This week, Sterling in M5, who has an interest in  dead bodies, headed off to a fascinating event held for students in central London. Organised by Inside Justice, the UK charity dedicated to investigating alleged miscarriages of justice, the event was an opportunity to see behind the scenes of a murder crime scene and the investigation. 

Tracy Alexander, Director of Forensic Services at City of London Police, and Jo Millington, Senior Blood Pattern Analysis Expert lead students through the investigative process. This might well inspire Sterling to start a career in forensics! Sterling said: I spoke with Ms Alexander at the break and asked her advice on what courses in school I should be taking as this is the direction I would like to go in my career.
Science in the Park
This week, Mr. Carpenter took advantage of the great weather and took both his M4 groups to the park for science. Learning is always best when authentic and students learn science best by being scientists! So with quadrats, tape measures and recording tools in hand, they set off to Friary Park to look at the biosphere first hand. The students really enjoyed the mini local field trip.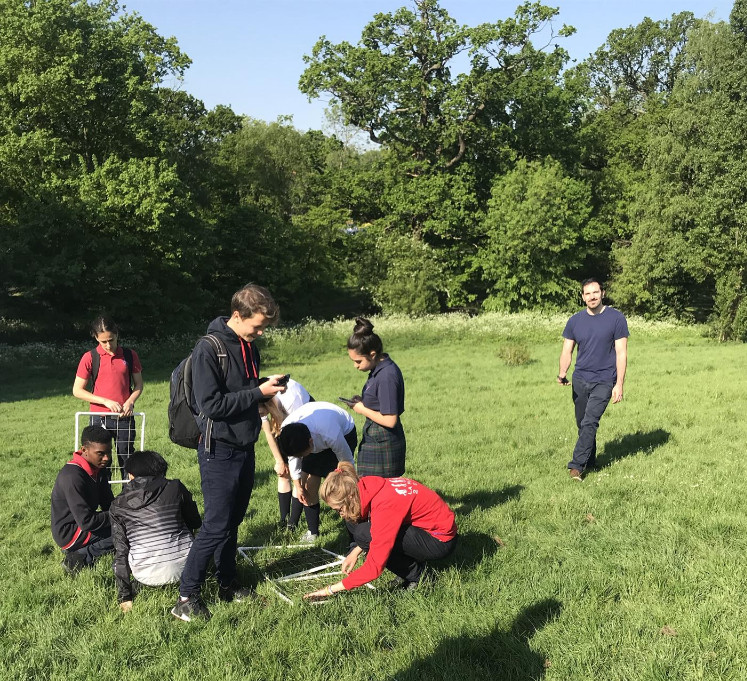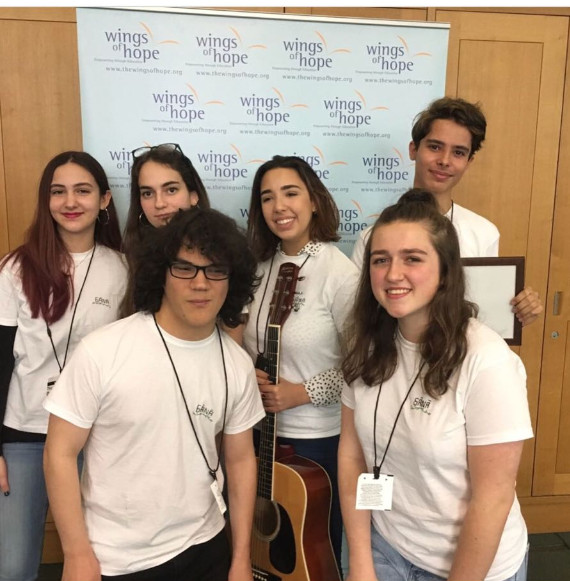 WOHAA Semi-Finals

On the 3rd of May, two teams from Dwight headed to Westminster for the Wings of Hope Achievement Awards semifinals to present their project in front of a panel of judges, consisting of Mr. and Mrs. Sriram, the founders of WOHAA, and a few other corporate members. Team Gana were first to present with their snazzy, hand embroidered t-shirts, and Team Roarin Kitty were second, Everyone had fun and are looking forward to the awards ceremony in June.
M3 Spanish and English interdisciplinary: Cervantes and Shakespeare
The Spanish students are currently working on an interdisciplinary unit exploring the connections between cultures and reflecting on the process of creative writing. They are learning about Cervantes and Shakespeare as the most influential writers of all time in the Spanish and English languages.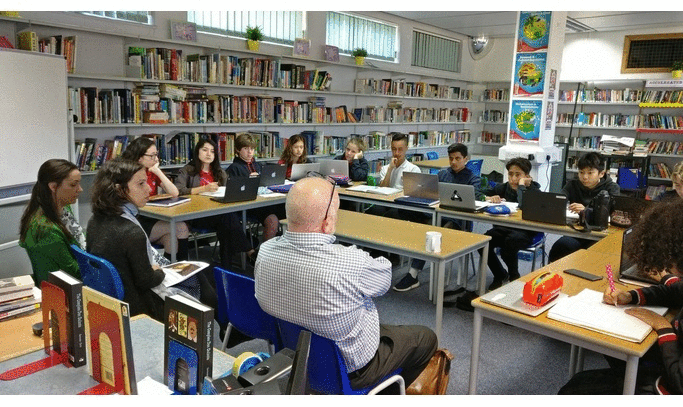 We were very lucky to have the Spanish and English teachers working together in a question and answer session led by the students. Through an inquiry lead session we explored questions such as: which one of the two writers has been more influential globally? Why did they write in the first place? Are there characters in their works that share similar traits?. Probably the most fun questions to answer were: who would you like to be: Cervantes or Shakespeare? and What would you say to them?

A million thanks to Ms Mather, Ms Marquez and Mr Dickenson for sharing their thoughts and expertise with the students, to MS Delgado for organising such a great activity and the students for coming up with such thought- provoking questions.
M5 eAssessment
The M5s continue to prepare for their end of year on screen IBMYP eAssessment. The Science and English department staff are looking at the interdisciplinary connections between literature and science, be that dystopian fiction or the language of science. It is an important end of year benchmark exam for M5 where they can show not what they remember, but what they can apply from all their learning to an original stimulus online. We have planned a furher preparation day next week and  we wish them well for  the exam on Friday, 18th May. This clash with the visit of Mr Spahn was unavoidable but we know M5 will join us fir the end of the event.

Leaders are learners too!
Demonstrating that all staff are learners as well as our students, Ms. Cobbin, Mr. Parkin and I headed off to a leading educational conference at Brighton College on Thursday. Speakers included the former Home Secretary, Alan Johnson MP; Nicky Morgan MP, the former Secretary of State for Education; the human rights campaigner, Peter Tatchell; the historian Jane Robinson, and one of the most important figures in global education, Andreas Schleicher, the individual responsible for the OECD's PISA Tests and for advising governments across the world on how to implement a successful education system. It was a fantastic and stimulating day and we returned with some fresh ideas for Dwight.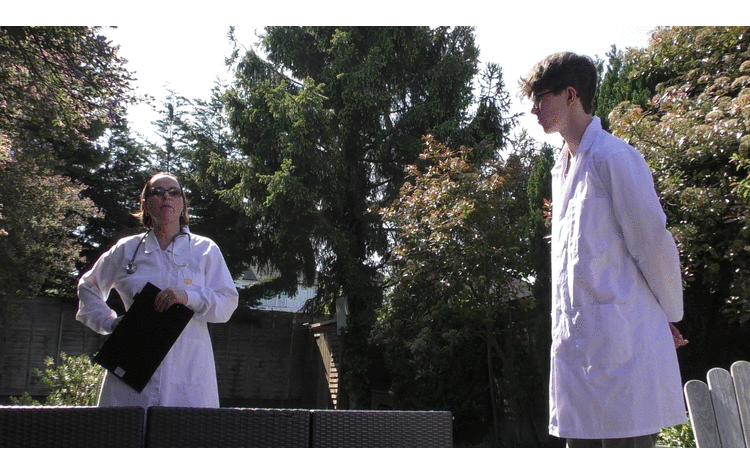 Film Skool
Mrs. Kennedy's Film Skool continues to be popular and the students are busy preparing a new season of films. They spent some of last weekend rehearsing and filming. They meet every Wednesday after school to perfect their movies supported by Mr. Done and film specialists. Along with #DwightTV, these experiences are helping prepare our students for a world increasingly dominated by digitial media. Here's some photos of the group in action.
Math Battle
Congratulations to Andrei who went to a Math tournament organised by The London School of Mathematics and Programming and consisted of three teams battling out a math battle against the two others. A math battle is a form of a team math competition, where two teams first get time to solve the problems (the teams are separate from each other. 6-8 problems in 1-3 hours, depending on the math battle), and later take turns challenging the other team to a problem. A challenged team's representative has to present a solution and its proof to the other team, and the challenging team's representative tries to find gaps and problems in the presented solution. After each round, the jury distributes 12 points between the teams and the jury themselves (because the jury also finds gaps in the solution, and see if the presenter is able to correct them). At the end of the battle, the team which has the most points wins, with a mercy of 3 points.

On Wednesday last week, the three math battles were 50 minutes to solve 6 problems as a team, and then around an hour for the actual battle (each team played 2 battles). Andrei was a part of the LSMP team of 7 players, and they were able to win both of our battles against St. Paul's team and RGS' team. Good luck for the upcoming finals in June!
Call for help at the DPA summer fair!
Kate Hicks-Beech and Annie Hagen, our DPA leaders, are looking for parents to support us at the Summer Fair this June. You do not need to be class reps to help and we have lots of stalls planned that need your support. You can contact Karen Strickland or simply turn up at Lower School on Monday morning at 9.00am to be involved in the latest planning meeting. It would be great to have some new faces on the DPA committee so this is a great way to start for any new families. You can help as much or as little as you like, it is a fun day for the school and all of the great causes. I hope to see you there!
Hot weather and uniform
With the warm days recently, we would like to remind you that tailored shorts (beige or blue) are an acceptable alternative to the kilt or long trousers.
Have a great weekend!
Andy Atkinson
Upper School Principal
Dwight Parent Association Events.
June Dwight Out and About – Swingers Miniature Crazy Golf
Join us for the last Out and About of the year, a special Friday evening outing at Swingers!
Swingers West End takes crazy golf back to its seaside roots in a venue that reimagines the faded glamour of the 1920's English Riviera.  We'll have a few drinks, play some crazy golf and celebrate the end of another great year at Dwight. This is open to all Dwight parents, so make it a date and bring your partner!
https://swingersldn.com/home/

Date: Friday, 29th June 2018
Time: 7pm meet at the venue
Place: Swingers West End – 15 John Prince's Street – W1G 0AB
Cost: £13 per person for golf – plus whatever drinks/food you want to order. Please bring cash on the night.


Contact michele@seanoneill.com to reserve your space or for more information.
Saturday - May 12, 2018
All day
Sunday - May 13, 2018
All day
Monday - May 14, 2018
All day