Welcome back everyone, I hope you all had a very good half-term.
Summer Exams
The return after half-term in the summer is always one of some increased anxiety as students head into a traditional season of end of year assessments. For senior students of M5 and D1 this involves more formal examinations in the hall (throughout next week) and for the M1 to M4 students this will be some exams and unit tests in class. We hope we have got the balance right where these assessments consolidate learning and are one more grade, albeit significant, to add to their ongoing assessments throughout the year. We keep an eye of how individual students cope with any associated anxiety. On the positive, it's a great opportunity for students to show what they have learned throughout the year and for the older students a chance to prepare for the formal experience that lies ahead at the end of the Diploma Programme. Good luck to all of our students! Do contact tutors or Dean's office if you have any concerns throughout next week.
Summer Concert this evening at 6.30pm
As this newsletter goes out we are adding the finishing touches to the Upper School Music Summer Concert. Mr. Kraft and his team have put together a super programme of music to entertain and relax us at the end of a long week. There will be a bar with drinks and snacks and the show starts at 6.30pm. I heard a practice yesterday and there is some lovely singing as well as instrumental pieces. Do come along, we hope to see you there!
Also may I remind you that Mr. Kraft launched the September Choir Fest plans in his letter here.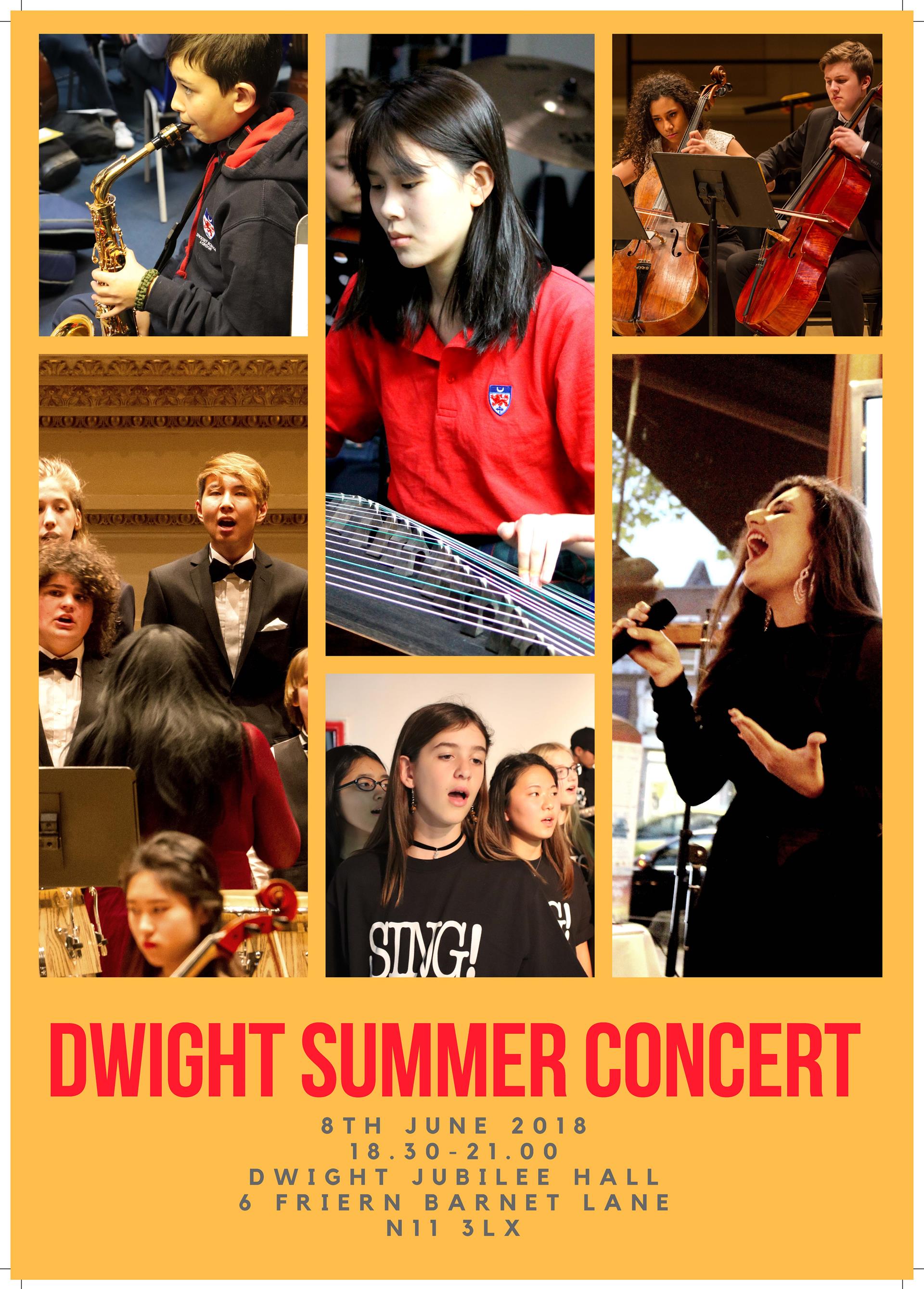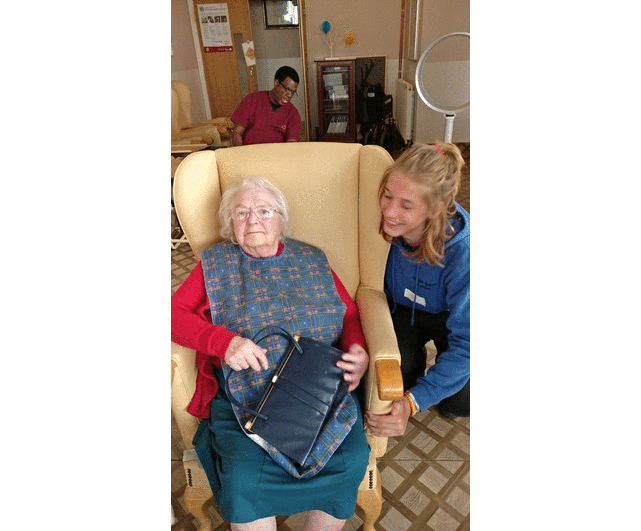 Service Learning
It's also great to see our students, even at this busy time, are still taking time to support the community. A great example this term has been through their Spanish classes. As Luke in M5 writes, Through undertaking a unit on Alzheimer's disease in Spanish class, M4s and M5s had the opportunity to visit a care home in Finchley and spend some time with the residents. 

We have seen them on two occasions so far and will continue to visit over the weeks to come. We spent just over an hour with them, doing activities we have prepared beforehand, including playing games, singing and playing music. The experience so far has been eye-opening and emotional as we connect with the residents. We are all so grateful to be able to do this and make friends with such lovely people. The photos show the wonderful exchange of young and old people and the students learn a great deal from the experience. Thank you to Mr Sanchez and Ms Delgado for setting this up.
CAS news
D1 Students had a talk from The National Citizen Service (NCS) this week, a once-in-a lifetime opportunity for 15 to 17 year olds. NCS takes place after exams in the summer holidays and during autumn half terms. NCS is a great chance to meet new people, develop new skills and boost a CV or UCAS application. As Teddy said Two volunteers from the programme came to tell us more about it. In phase one there are outdoor activities which helps with team building, phase two is where participants learn about being independent and are able to improve their CVs and develop different skills such as public speaking. In the third phase, the teams pair up with a charity and do a community project in something that they are passionate about and also deliver a message. The programme ends with a graduation where participants will be given a certificate signed by the Prime Minister. We were very impressed with the presentation and the prospects of this programme - it seems perfect for the students trying to stand out from the crowd! Students can sign up at www.ncsthechallenge.org and Mrs. Boyle has more details.

Spark Tank News from Mr. Turner
We have ignition! Thursdays after school the members of Spark Tank have been furiously working away at their ideas and presentations in time for the Spark Tank event on the 28th June. We have been very fortunate to have special guest Mr. Shah come and talk to us about his involvement in similar schemes and pass on some really useful knowledge. Some of the initial sparks include: A cookbook for teens, An app for teens to find safe places to visit and have fun in London, An app of the most annoying ringtones, A business that sells biodegradable cutlery and utensils, A business that encourages youth participation in classical music, A new type of turning wheel for long-boards and an idea to use Nano drones to harvest drinking water from salt water! Could one of these ideas be the Next Big Thing? Our Spark Tank judges will help decide on 28th June with prizes of mentorship and financial support we are really excited to see how these ideas may shape the future.

Elena Sinel is one of our Spark Tank judges and runs Acorn Aspirations. This summer they will be running an amazing two week program where participants can learn about Artificial Intelligence, go on field trips to Microsoft and Twitter, meet top experts from tech companies and develop entrepreneurial skills. to learn more about this awesome project take a look the links here:
https://mailchi.mp/7589f74b7846/acorn-aspirations-accelerator-and-more?e=057dde66cc
https://youtu.be/akhRaKydAiw
http://acornaspirations.com
tM3 and M4 IBMYP Projects
This week saw great steps forward with the IBMYP projects. Ms. Villatte has launched the M4 Personal Project season ready for next year where the students are introduced to the ideas of Personal Projects to start thinking about and working on over the summer. M3 in a new innovation at Dwight led by Ms. Mather and Ms. Allen are all going through the experience of a community project. 

The community project provides an important opportunity for students ages 13-14 to collaborate and pursue service learning as you will see from photos here and from Chaim in the episode of Dwight TV below.
For fans of Dwight TV, here is this week's fun episode with news and amusements from Tess's team. Make the most of it as next week the team take a break from filming but we are pleased to announce we will be back on 22nd June and season two will run next year with a new look! Enjoy this episode which also updates us on the summer Nepal Trip project.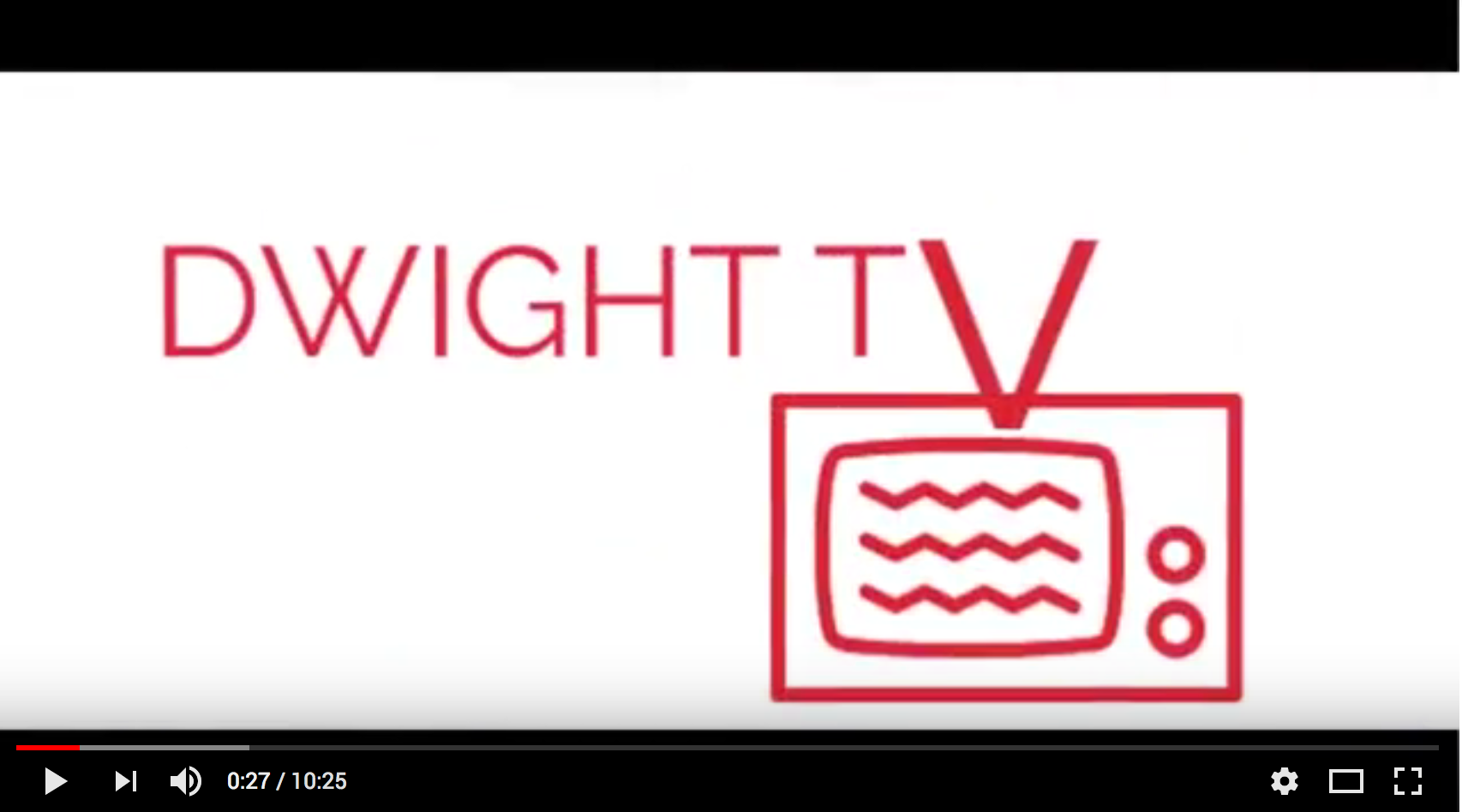 Spanish Trip
On Thursday afternoon, the Diploma Spanish students, across all levels, all got the opportunity to come together and experience the wonderful Spanish cuisine in La LLuna, a Spanish restaurant in Muswell Hill. For a very reasonable price, we were able to taste many different dishes - from tapas to paella, churros and many more! On top of that, we stayed dedicated to learning spanish by doing our best to communicate in Spanish with the waiter and with each other. 

Quite challenging, but super fun! It is interesting how we can learn so much just by going to a restaurant! The whole group had lots of fun on this short but delicious outing, and we are very thankful to Mr. Sanchez and Mrs. Marquez for giving us this opportunity.
Buenos Aires Trip July 2019
Mrs. Kennedy and her team held a meeting this week about a wonderful arts trip to Buenos Aires planned for July 2019. We already have a number of students signed up but this meeting got us all talking about the wonderful country of Argentina with its rich and fascinating culture and history.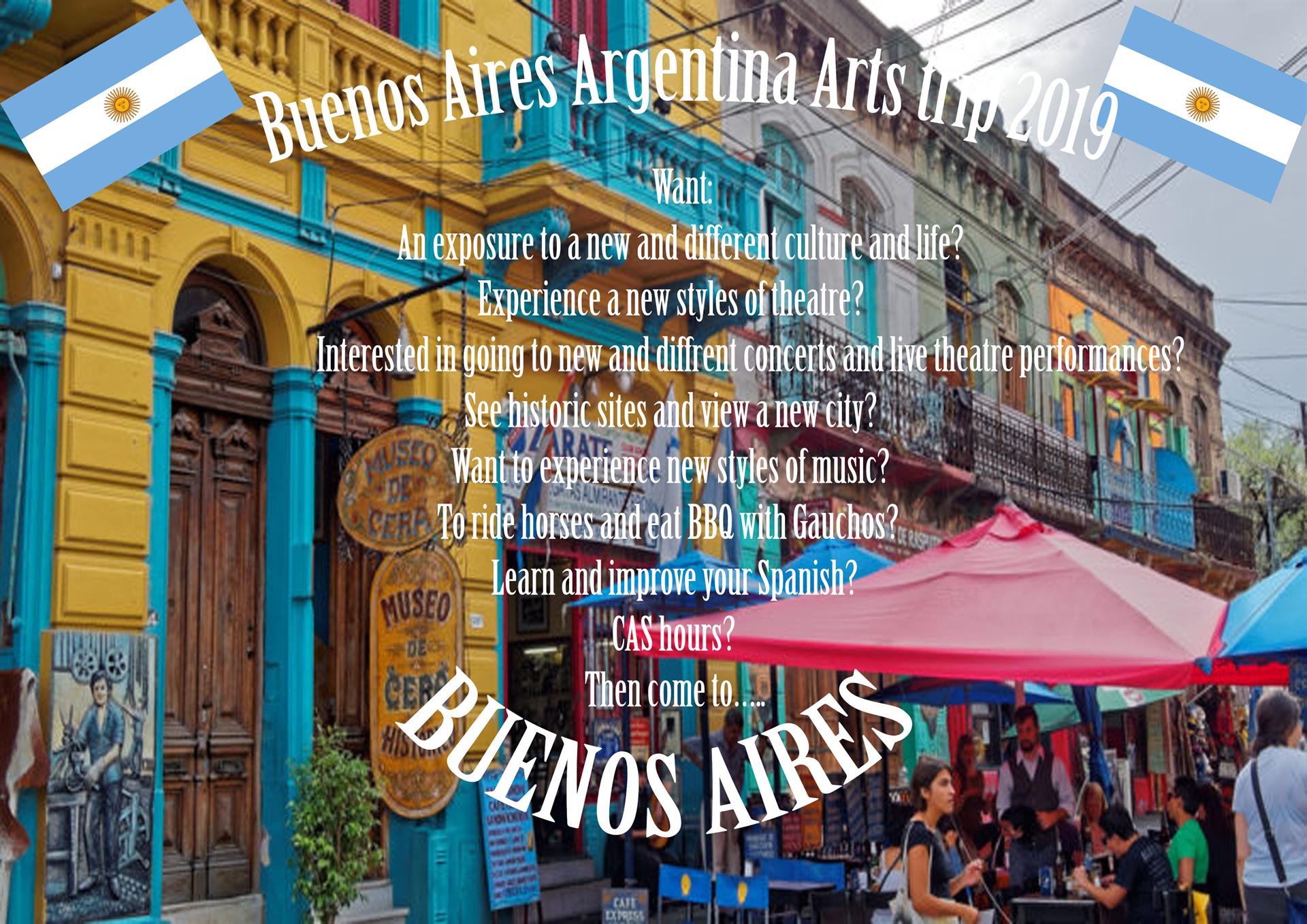 Whether the students will be learning the tango, watching experimental theatre, meeting gauchos on the Pampas or wandering galleries and museums, it promises to be a great adventure. I lived in Argentina for over a decade and I'm delighted to have helped set up a visit to St Andrew's School there for students to meet some fellow IB students. For further information, please click here or contact Mrs. Kennedy directly.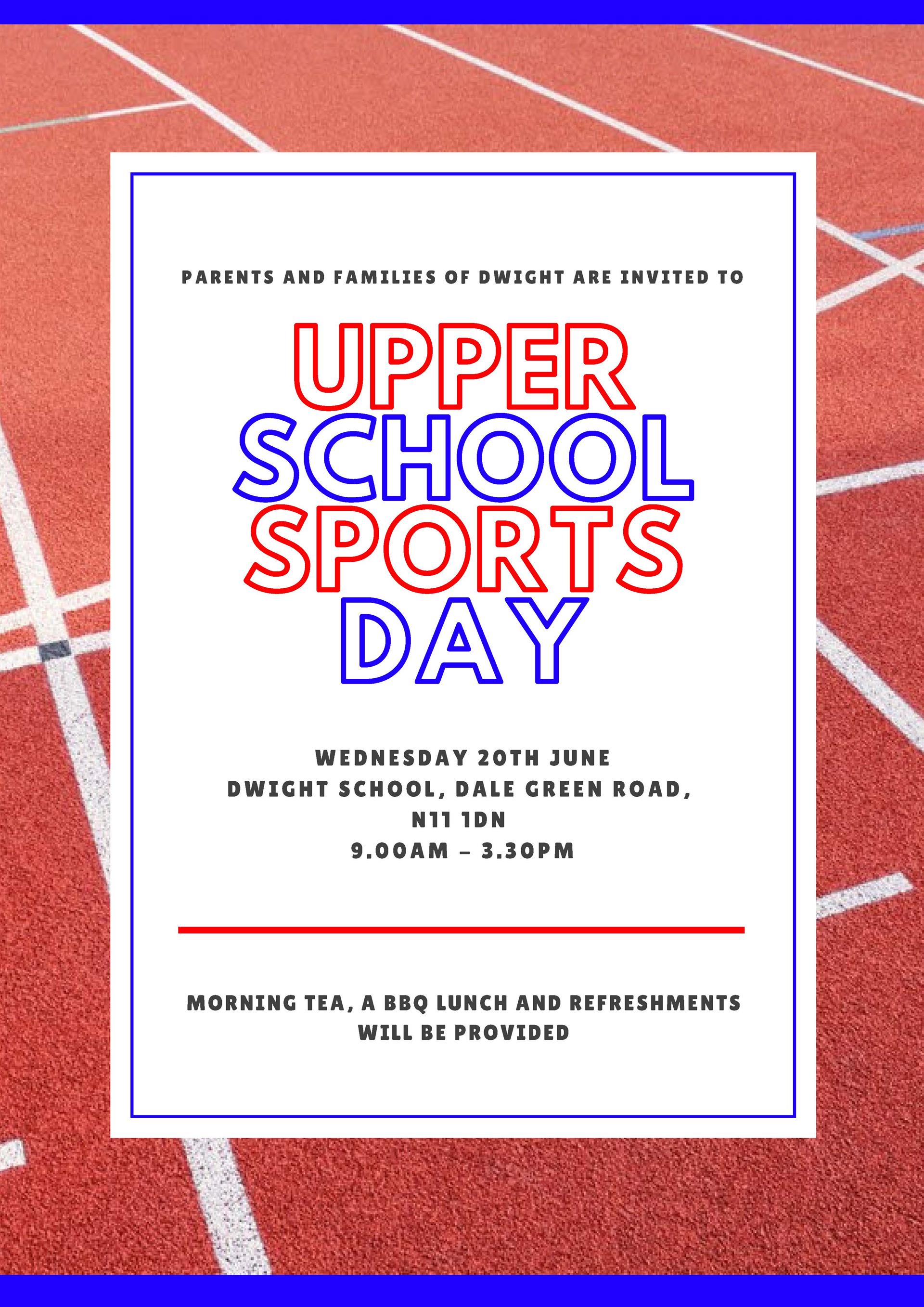 Sports Day Wednesday, 20th June
Our Sports Day will take place on the school field on Wednesday, 20th June from 9.00am to 3.30pm. This is an opportunity for all IBMYP students to represent their House in a variety of track and field events. We would like to invite all parents to attend. Morning tea, a BBQ lunch and refreshments will be provided. A programme for the events of the day can be found here. For catering purposes, please RSVP here.

House Hoodies and T-Shirts are on the way!

Many parents and students have asked about House t-shirts and hoodies, so due to the high volume of requests, we have sourced some t-shirts and zipped hoodies for each of our three Houses. We are very excited that they are now on the way and are due to arrive next week! You can order them online via our website here. We will also be selling them at our Summer Fair!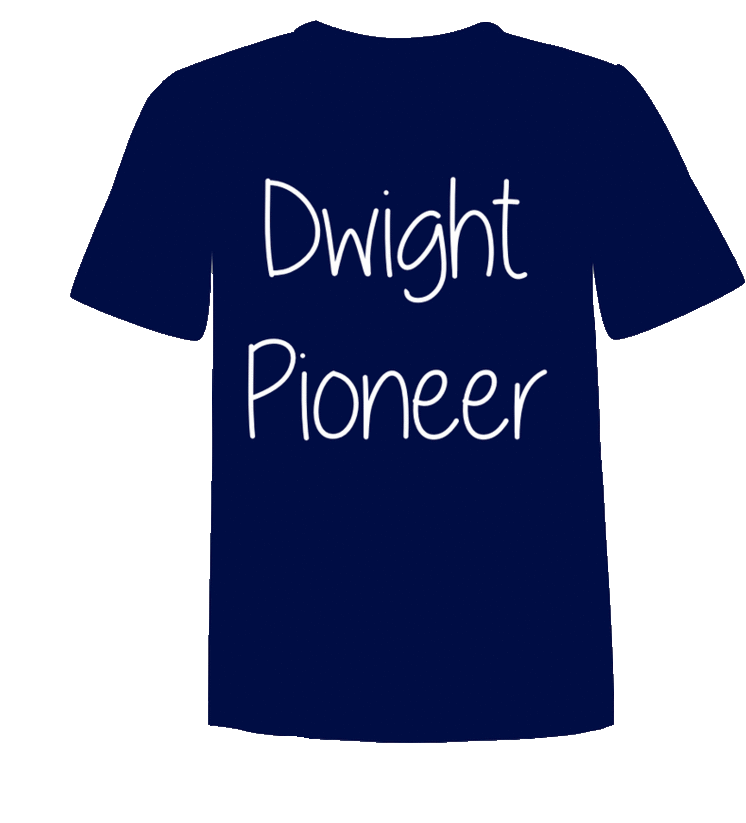 I hope you parents all have a lovely weekend  - while your children revise!

Andy Atkinson
Principal Upper School
Important dates for the end of term

Our public calendar has been updated but here are some important end of term dates for your diaries.

June 11th-15th: Assessment Week

June 18th-22nd: M5 in DP taster classes

June 20th: Sports Day

June 21st: MYP Art Exhibition



June 25th-29th: M5 work experience week and lots of day trips for M1-M4


June 25th-29th: D1 study week with Group 4 Sciences Project & DP Core elements

June 26th: Community Project Evening

June 28th: Upper School Awards Ceremony


June 28th: Spark Tank Evening

June 29th: Book Fair

July 2nd: MYP Celebration and Awards

July 2nd: Semester 2 reports issued

July 3rd: Nepalese Tales Performance Evening

July 4th: Last day of term for students



Dwight Parent Association Events.
June Dwight Out and About – Swingers Miniature Crazy Golf
Join us for the last Out and About of the year, a special Friday evening outing at Swingers!
We already have a group of 12 committed, so it's going to be very fun!
Swingers West End takes crazy golf back to its seaside roots in a venue that reimagines the faded glamour of the 1920's English Riviera.  We'll have a few drinks, play some crazy golf and celebrate the end of another great year at Dwight. This is open to all Dwight parents, so make it a date and bring your partner!
https://swingersldn.com/home/

Date: Friday, 29th June 2018
Time: 7pm meet at the venue
Place: Swingers West End – 15 John Prince's Street – W1G 0AB
Cost: £13 per person for golf – plus whatever drinks/food you want to order. Please bring cash on the night.


ONLY A FEW SPOTS LEFT, so please contact michele@seanoneill.com if you plan to attend.

Monday - June 11, 2018
All day
Tuesday - June 12, 2018
All day
Wednesday - June 13, 2018
All day