This week's news from Kindergarten and Reception

Dear Parents,
Here is an outline of our learning this week: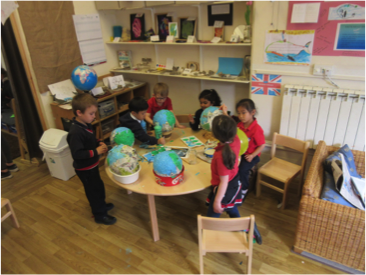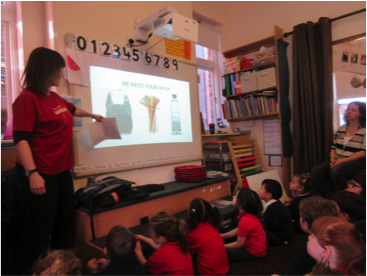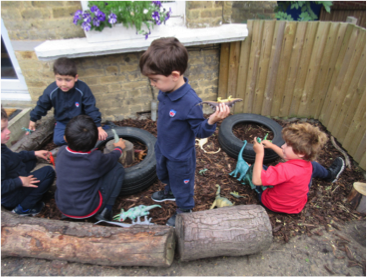 Following our interest in the book Dear Greenpeace, we welcomed Lisa Thomson, a Greenpeace speaker to our school. She gave us lots of interesting information about blue whales and taught us about the damage plastic is causing in our oceans.
Our visit from Lisa inspired all of us. We are busy working on an exhibition called The Ocean of the Future that will be ready for you to come and view from next Tuesday onwards.

We covered balloons in paper and glue in order to make models of the Planet Earth.

In the garden we made a dinosaur and swamp area.

With Father's Day on Sunday, we made cards so we hope you found them in time to celebrate!

The children used lollipop sticks and made rafts. They tested them in water to see if they would float or sink.

With blue playdough the children made sea creatures.

The boxes that our new furniture arrived in have kept

the children very amused! They have been used as hiding places, houses, robots, boats and now aquariums.
We had Chromebooks available this week and this has been a popular activity. The children have been writing lists and names. They have also used them to write the text for our exhibition.
For Forest School this week we visited Moat Mount and went exploring and climbed trees.
 Learning in Kindergarten:

We have been doing a lot of writing again this week and we began by writing information about ourselves.

We wrote captions to match pictures.

We practised writing tricky words such as like, my, he, she, the and was.

Our interest in whales has lead to the children doing independent writing about them.

Using the Chromebooks the children have been writing captions about the features in their exhibition.

We counted and recognised numbers up to 100 and wrote numerals with the correct formation.
Please make sure you have signed up for our Three-Way Conference that takes place on Tuesday, 19th June.
We would like to make some sea creatures for our exhibition by recycling plastic.
Please can you collect any plastic bottles, bags and food containers for us.
Following on from our Greenpeace visit we have decided to hold a cake sale and donate the proceeds to Greenpeace. We will decide on a date after the Summer Fair.
We will be making sea creatures at school but you can also make one at home if you wish and we will add them to our exhibition.

Here is an example that the Greenpeace Speaker gave to us: