Learning in the Lower School
Summer Fair is almost here!
It will soon be Saturday, 23rd of June and time for our Whole School Summer Fair. We will be having a non uniform day on Friday, 22nd June for donations of items that can be sold at the summer fair.

Summer Fair - Saturday, 23rd June
We have some fantastic activities lined up for this year's Summer Fair and a fabulous range of raffle prizes, including a £250 voucher off your next flight!
Activities include:
The Dog Show - do not forget to bring your pooch, who will be the next Best Dog?
The Great Bungee Run - It is time to weed out the strong from the weak with this great inflatable activity!
International Food Stall - What is there not to love about this?
Pimms - Our summer favourite!
Bottle Tombola - Could that bottle of champagne be yours?
Face Painting, Nail Art, Temporary Tattoos and Coloured Hairspray - Who doesn't deserve a makeover?
Hook-a-Duck - One of the annual favourites!
Bouncy Castle and Inflatable Slide - Another favourite of ours!
Used Uniform Shop - We all love a bargain!
The Dwight Catapult! - A new game that looks so much fun!
So many more - the newsletter would never end if we included them all!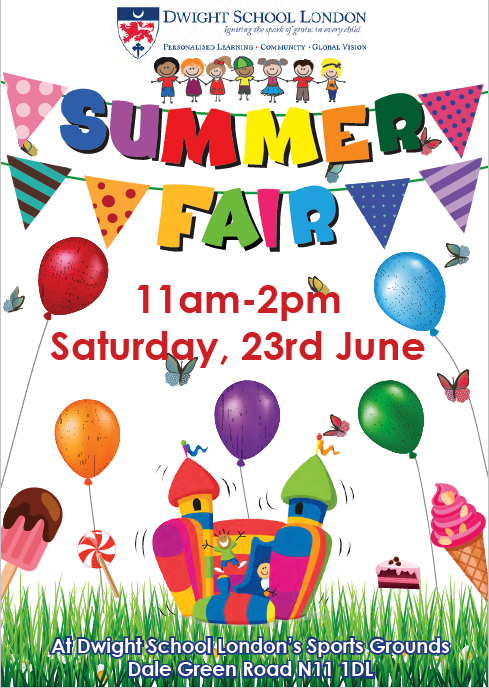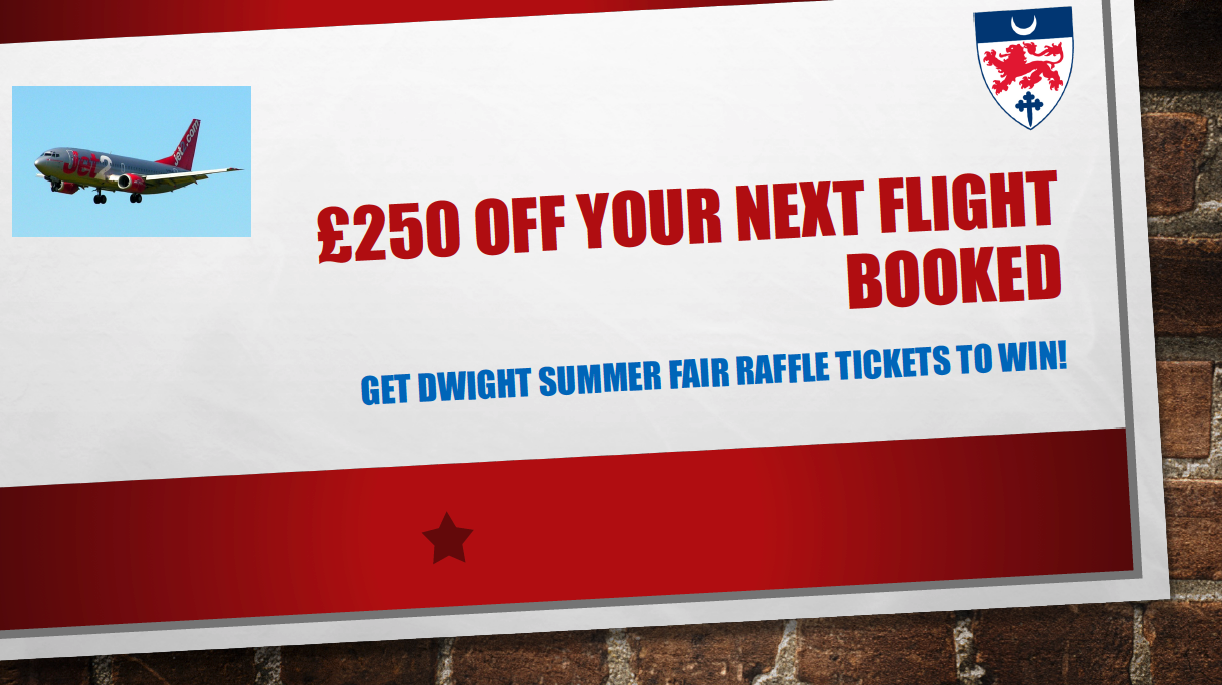 After the success of the token system at the Winter Fair, we are going to use the same idea at the Summer Fair. Each token will be worth 50p and activities will cost between 1 or 2 tokens to participate.  Tokens will be available to purchase on the day but to save time queuing, they are available to order on WisePay ready for you to collect at the Fair when you arrive.

We cannot wait to see you all there!
Goodbyes
As we get to the end of the term we know we will be saying goodbye to some students and their families. We will also be saying goodbye to three classroom assistants this year who between them have been at the school for over 35 years. Firstly we want to say goodbye to the ever positive Megan Shinnick. Megan will be taking on a new role abroad. Megan has been based at the Lodge with the Early Years and she has helped it to become the outstanding setting that it is. More importantly she has had a real impact on the lives of the children. 
In Year 4 Jane Meredith has decided to leave Dwight to try a new challenge. Jane has been very flexible and worked with many teachers, in many year groups, in many different buildings! She can be proud of the fact that she has helped lots of children aged 3 all the way up to aged 9!
Finally it is farewell to Lesley Coster. Lesley has been a classroom assistant and a teacher for many years. She has a great disposition and she is always keen to try new things. She has a wealth of experience and expertise. 
Megan, Jane and Lesley, we will miss you all, we wish you every success in the next chapter of your lives and please remember you can come back and see us anytime, you will always have friends at Dwight.
Arts week 18th-22nd June
Our Arts Week which will take place Monday, 18th to Friday 22nd June. Mrs. Boughton has launched a competition to help promote the event and we will be announcing the winner next week. During the week we will be giving the students more places to display their art work, more venues to share their artistic talents and there will even be a stage on the playground for students to present their plays and shows, too
Whole School House Competition based on the World Cup Ahoy!
The World Cup has started this week and so we have decided to have a World Cup Inter House Football competition on Tuesday, 3rd July. The event will be a Whole School event and it will take place on the school field. The day will finish at 2.30pm (Development Tuesday) and all students will need to be collected from the field, as they do on Sports Day.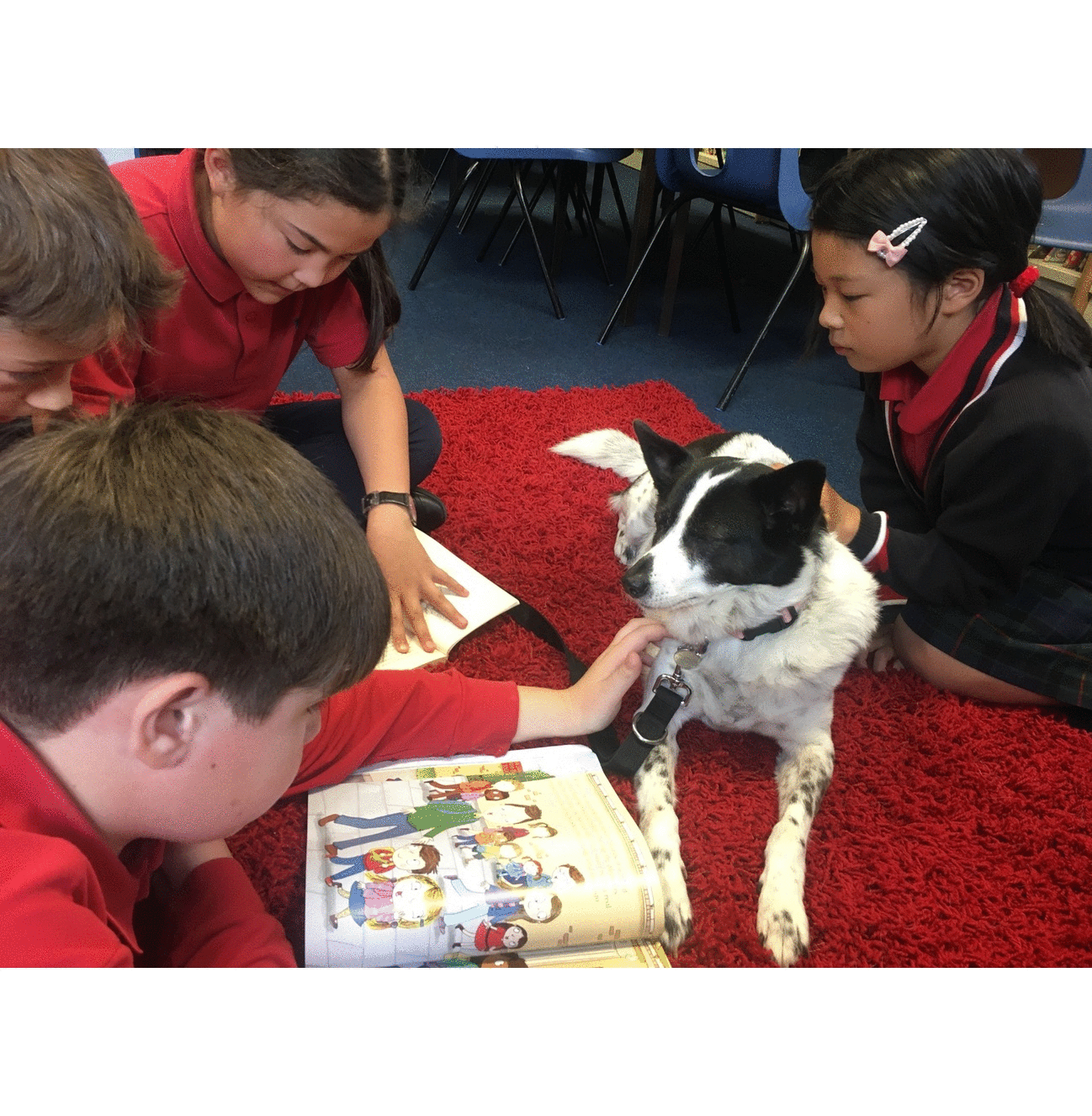 Reading with Molly

We welcomed back Molly this week and she had the pleasure of spending time with students from Year 6, Kindergarten, Reception, Year 1 and Year 4. It is lovely to see the joy on the students faces when they see her.
Trips and events 

We had several trips and events this week.....
Year 3 had a great  trip on  Thursday, 14th June as part of their Unit of Inquiry on Transport. Their highlight was the cable car, but they also enjoyed boat trip too. Some of the parents that went commented that they wish they could have had a trip like this when they were in school! 
Year 2 went to the High Street this week. They are researching businesses and services in the local community. They enjoyed being customers in card shops, dog food shops and a pizzeria! 
Year 6 visited several venues this week as part of their Exhibition work. Some students saw some great impressionist paintings, some interviewed an actor from the Globe theatre, some met a world class composer Peter Ash who visited Dwight to talk about his work as a conductor and composer of The Golden Ticket, a children's opera based on Charlie and the Chocolate Factory, and the Dance group of Year 6 were hosted by Royal Ballet Soloist Fernando Montano who gave them a tour of the Royal Opera House; they even saw the Queen's toilet by the royal box!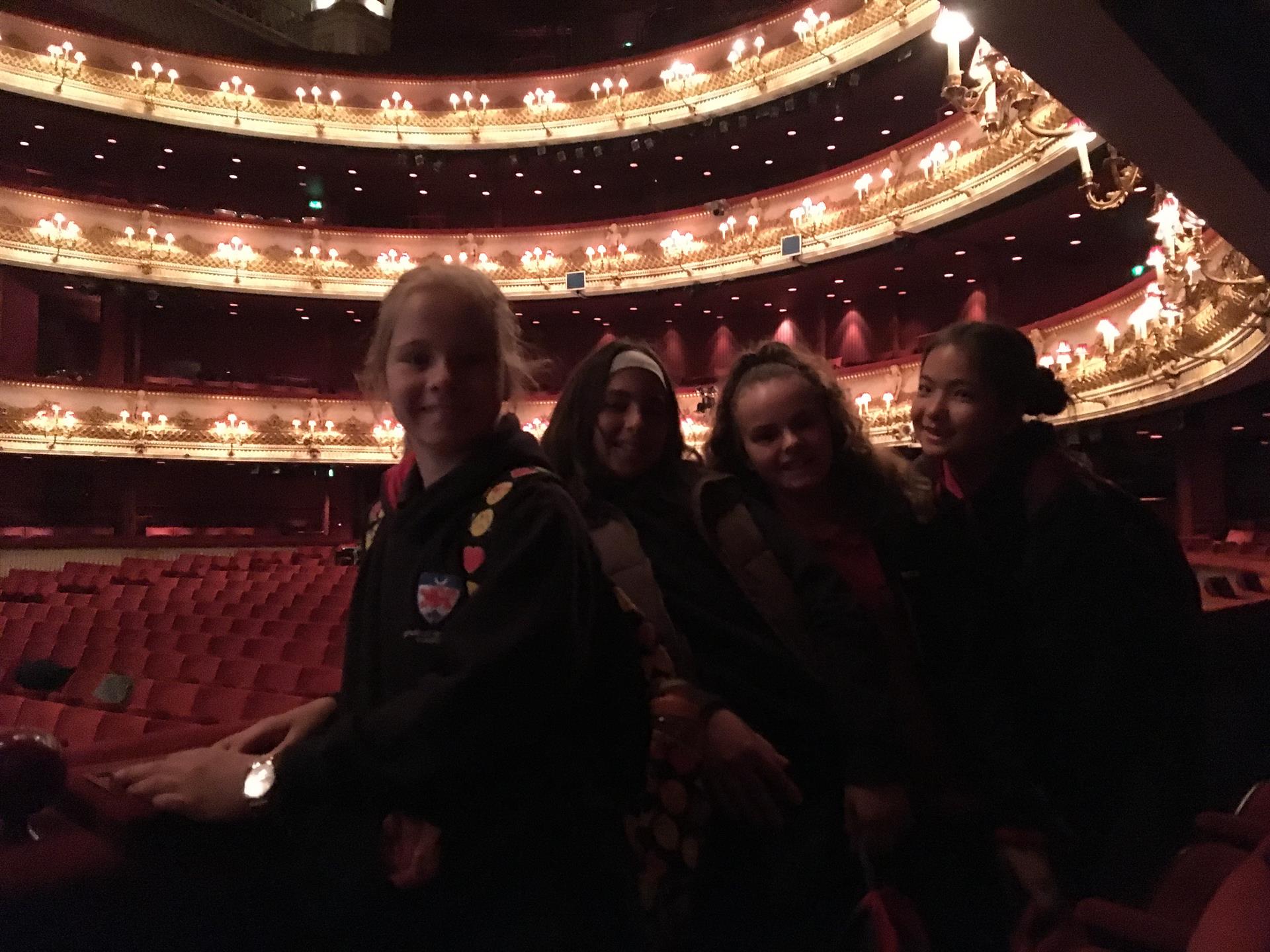 Year 4 were visited by a Drama expert and took part in a 2 hour drama workshop that gave them the opportunity to demonstrate their communication skills and their humour! 
Kindergarten and Reception went on a Forest School day at Moat Mount and enjoyed climbing, which is a great way to build up risk taking skills and resilience ! 
Trips and events next week
Year 4 visit Kidzania next Friday. We hope they have a great time learning about different roles within companies and the responsibilities of working to deadlines.
Year 5 have their Market Day next Friday afternoon. They have been preparing their stalls and have been through the process of choosing, advertising, pricing and selling a product ready for next week!
Three-Way Conferences
We look forward to seeing you all on Tuesday, 19th June when we host the Three-way (student, parent, teacher) conferences.
The conferences start at 2.30 and last until 6.30. The Art room will be our waiting room with refreshments. The hall will be the venue for the conference except for those students who are in Kindergarten/ Reception.
Please also note that Miss Larragy will have her Year 1 Three-Way Conferences the following week on Tuesday, 26th from 3.40-5.00pm and Wednesday, 27th from 3.40-5.00pm.
Please note that buses run as usual after school and if travel plans change  for individual students thern  the office will need to be informed. 
Year 6 Exhibition News!
Year 6 are getting ready for their Exhibition on Wednesday, 27th June. The students have been working collaboratively. They have a wide range of information to share, of entertainment to perform and of research to display. I am already looking forward to it. It will start at 6.00-7.30pm. During the week the Year 6 students will also be sharing their learning with Year 3, 4, 5 and M1 & M2 too!
House Hoodies and T-Shirts are on the way!
Many parents and students have asked about House t-shirts and hoodies, so due to the high volume of requests, we have sourced some t-shirts and front zipped hoodies for each of our three Houses. We are very excited that they have now arrived. You can order them online via our website here. We will also be selling them at our Summer Fair!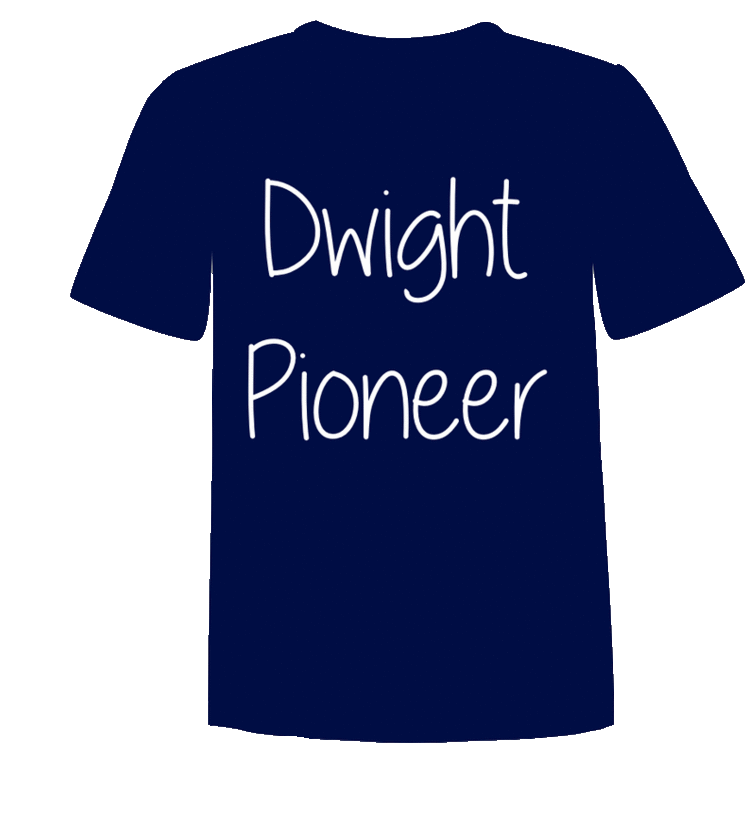 Super Question and Language of the Week
Super Question Congratulations to Antoni in Year 5 who correctly informed us that Lee Ridley won Britain's Got Talent. What was specifically interesting was that he is a comedian who was born without the ability to speak. He used technology to support his act, he demonstrated a lot of self deprecation and won the whole competition!  

This week's super question is What happened for British women exactly 100 years ago this week ?
Our Language of the week was sign language and we will be learning more sign next week too.
Have an enjoyable weekend.
Kind regards
Matt Parkin
Lower School Principal
Reminders 

Absence  reminder: Please ensure that you let the office and the class teacher know if your child is likely to miss a school day due to absence 
Hot Weather Reminder We want to remind all parents that as the temperatures are getting higher we recommend wearing hats and applying sunscreen to your child/ren during any hot spells.
Key Dates
3-Way Conference - 19th June from 2.30-6.00pm

Year 1 3-Way Conference - Tuesday 26th & Wednesday, 27th from 3.40-5.00pm

June 22nd Non Uniform Day 

Summer Fair - 23rd June from 11am-2pm

Year 6 Exhibition - 27th June


Year 6 Leavers Assembly 29th June 9-10 

Speech Day Monday July 2nd 9-10

House Event Tuesday July 3rd 12.30-2.30 ( Development Tuesday School closes early) 

Wednesday 4th July is the last day of the academic year 
Dwight Parent Association Events.
June Dwight Out and About – Swingers Miniature Crazy Golf
Join us for the last Out and About of the year, a special Friday evening outing at Swingers!
We already have a group of 12 committed, so it's going to be very fun!
Swingers West End takes crazy golf back to its seaside roots in a venue that reimagines the faded glamour of the 1920's English Riviera.  We'll have a few drinks, play some crazy golf and celebrate the end of another great year at Dwight. This is open to all Dwight parents, so make it a date and bring your partner!
https://swingersldn.com/home/

Date: Friday, 29th June 2018
Time: 7pm meet at the venue
Place: Swingers West End – 15 John Prince's Street – W1G 0AB
Cost: £13 per person for golf – plus whatever drinks/food you want to order. Please bring cash on the night.


ONLY A FEW SPOTS LEFT, so please email michele@seanoneill.com if you plan to attend.

Monday - 18 June 2018
9:00 AM - 10:00 AM
Tuesday - 19 June 2018
All day
Friday - 22 June 2018
All day