Learning in the Lower School
Arts Week
We had a strong entry for our Arts Week competition this week - There were some beautiful hand-made flowers for our competition. There were also some great musical performances on our outdoor stage. Mrs. Boughton helped the students celebrate Art by adding a piece of work from every student in the Art room ready for the Three-Way Conferences.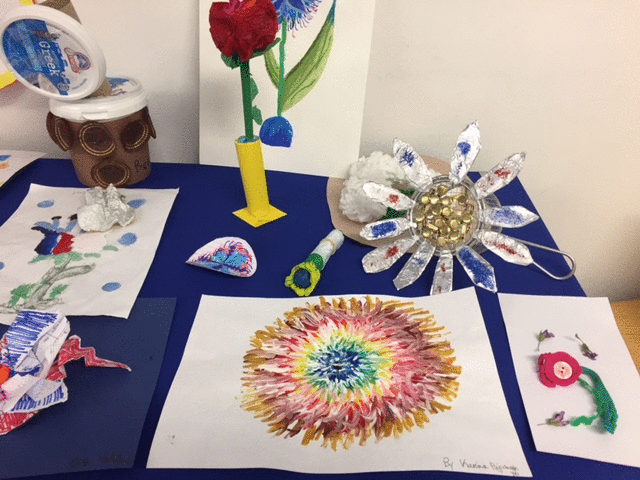 3-Way Conferences
We appreciate your attendance at our recent Three-Way conferences. When we host this again next year our plan is to have shared many pieces of work and educational journeys with you. The software Seesaw is proving to be a great way to share and show learning. There was a lot of very positive feedback on Tuesday and we would like to thank you for your kind comments.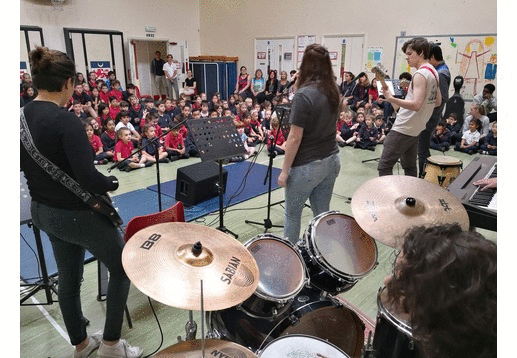 The Upper School Entertainers
We had a great visit from the Upper School band on Tuesday. They performed for about an hour and we enjoyed the many songs they shared with us. The Lower School students (and teachers) particularly liked the rock song: Sweet Child of Mine. Click here to view a short clip of the performance.

Photos of Year 2
Year 2 had a great Friday exploring services and shops in the local area last week, they put together this lovely set of photos. They particularly liked learning about the ambulance service, spending time on the double decker bus and of course they really enjoyed their pizzas!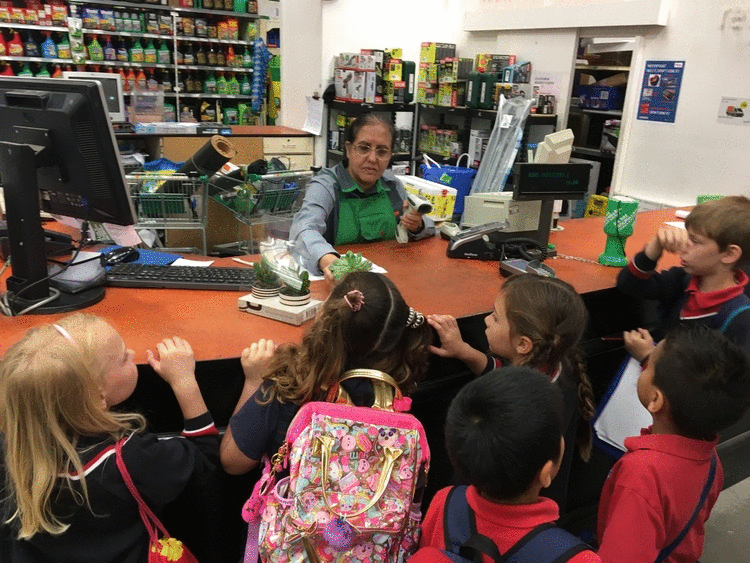 Library Book Returns
Mrs. Mastoridis wants to remind students that if you have finished with a library book it would be a good time to return it next week.
Summer Fair....it's almost here
There is only one more day until the fabulous Summer Fair at our Sports Field on Dale Green Road from 11am-2pm. I've already decided that I am trying out some new foods, seeing what the catapult is like, winning the best in show category with my dog Bali and of course winning all the raffle prizes too! We are looking forward to seeing you there and may I thank all our wonderful parents who gave up so much of their time and energy to plan for our lovely community event. Full details of the Fair are below.

Summer Fair - Saturday, 23rd June
We have some fantastic activities lined up for this year's Summer Fair and a fabulous range of raffle prizes, including a £250 voucher off your next flight!
Activities include:
The Dog Show - do not forget to bring your pooch, who will be the next Best Dog?
The Great Bungee Run - It is time to weed out the strong from the weak with this great inflatable activity!
International Food Stall - What is there not to love about this?
Pimms - Our summer favourite!
Bottle Tombola - Could that bottle of champagne be yours?
Face Painting, Nail Art, Temporary Tattoos and Coloured Hairspray - Who doesn't deserve a makeover?
Hook-a-Duck - One of the annual favourites!
Bouncy Castle and Inflatable Slide - Another favourite of ours!
Used Uniform Shop - We all love a bargain!
The Dwight Catapult! - A new game that looks so much fun!
So many more - the newsletter would never end if we included them all!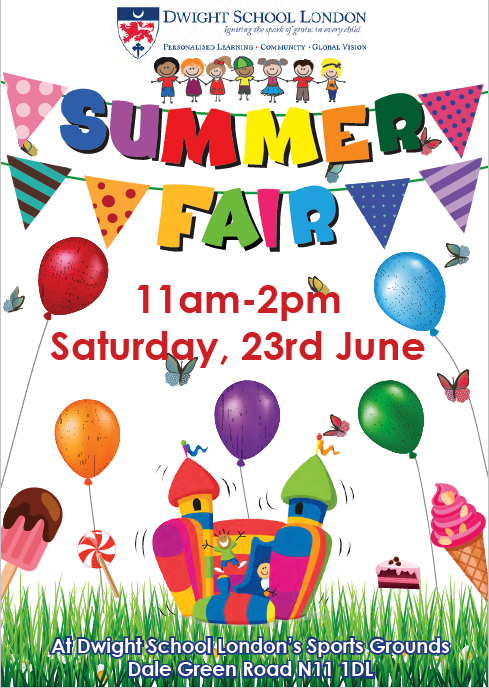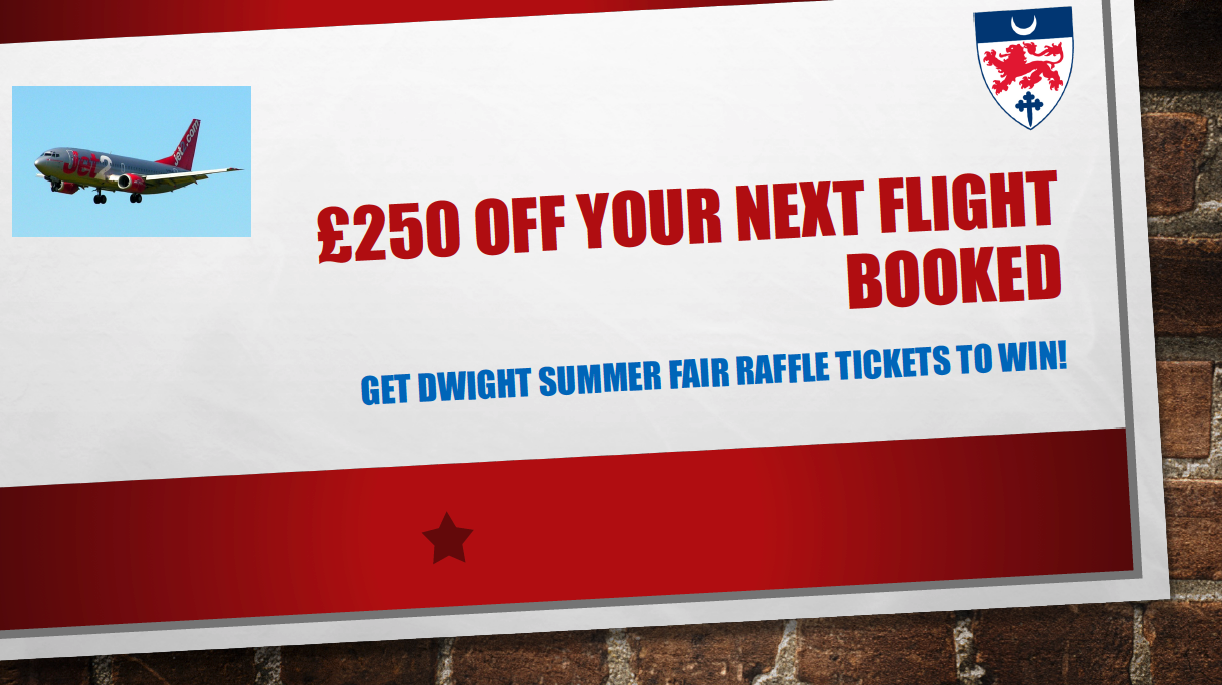 After the success of the token system at the Winter Fair, we are going to use the same idea at the Summer Fair. Each token will be worth 50p and activities will cost between 1 or 2 tokens to participate.  Tokens are now only available to purchase on the day.

We cannot wait to see you all there!
Market Day for Year 5
Year 5 worked hard this week to get ready for their Market Day. They sourced some ideas, asked for a loan, purchased resources, kept a spreadsheet and then sold their products and service . Well done to all of the students in Year 5 for taking part. The list of skills they have used is very impressive, planning preparing sourcing purchasing and organising their Market Day. You could also add collaborating, negotiating, risk taking, communicating and participating. At the time of writing they are about to set up their stalls, they are excited by this authentic experience and they are waiting to see what it is like and  how much money they can raise.
EYFS Exhibition and Bake sale 
A special mention to our youngest students who set up a lovely exhibition of their work entitled The Ocean of the Future  in their classroom this week. Many parents, staff and older students who visited were extremely impressed with their work, imagination, presentation skills and understanding. The exhibition will stay on display next week and they will host a bake sale on Wednesday to raise money to help keep our oceans clean. It is very satisfying for us as a school to boast that our 4 and 5 year old students can demonstrate such principled, caring and reflective learning. 
The EYFS students  only have another 6 years to go before their big exhibition! Talking of which, Year 6 students are almost ready to display and share their Exhibition. It will take place on Wednesday, 27th June for parents and staff, and on Thursday, 28th June for the other classes in school. It will be a great event!
Leavers
Sadly we have 3 teachers, who will be leaving us at the end of this academic year: We wish them all well. We are proud that they are such influential  members of our community and they will continue to be a special part of our school.

Mr. Slane (everybody's favourite Irish man ) will be returning to Ireland with his partner and his baby son. He has been with the Dwight School for several years and has taught in Years 1, 3 and 5. He is a delightful man, and we will miss him immensely, we wish him and his family all the best in Ireland.

Mrs. Rehman will be saying farewell to us too. She has been with us for over five years and she has not only had a significant impact mainly as a teacher in Years 3 and 5, She has also helped take the school  forward with its use of IT. She has developed many of the systems in use today. She is always available to help and support students, parents, and staff. We will miss her a great deal  as she returns to her native Australia.

Mrs. Gaylor will sadly be leaving us also. She has been with us for over twelve years. She has been an inspirational leader and teacher during her time here. She has led the development of our IBPYP curriculum and moved the school from a satisfactory level to the outstanding setting that we are now. She is going to relocate to the North of England. We wish her and her family every success with their move up north.
Transitions and New Classes
As we get closer to the end of the year many students are starting to think about what classes they might be in for 2018-2019. To help them prepare for next year there will be a Transitions Day activity on Monday, 2nd July. This will give students a chance to meet their new teacher and give them a little taster of what next year will entail.
Here are the classes for next year: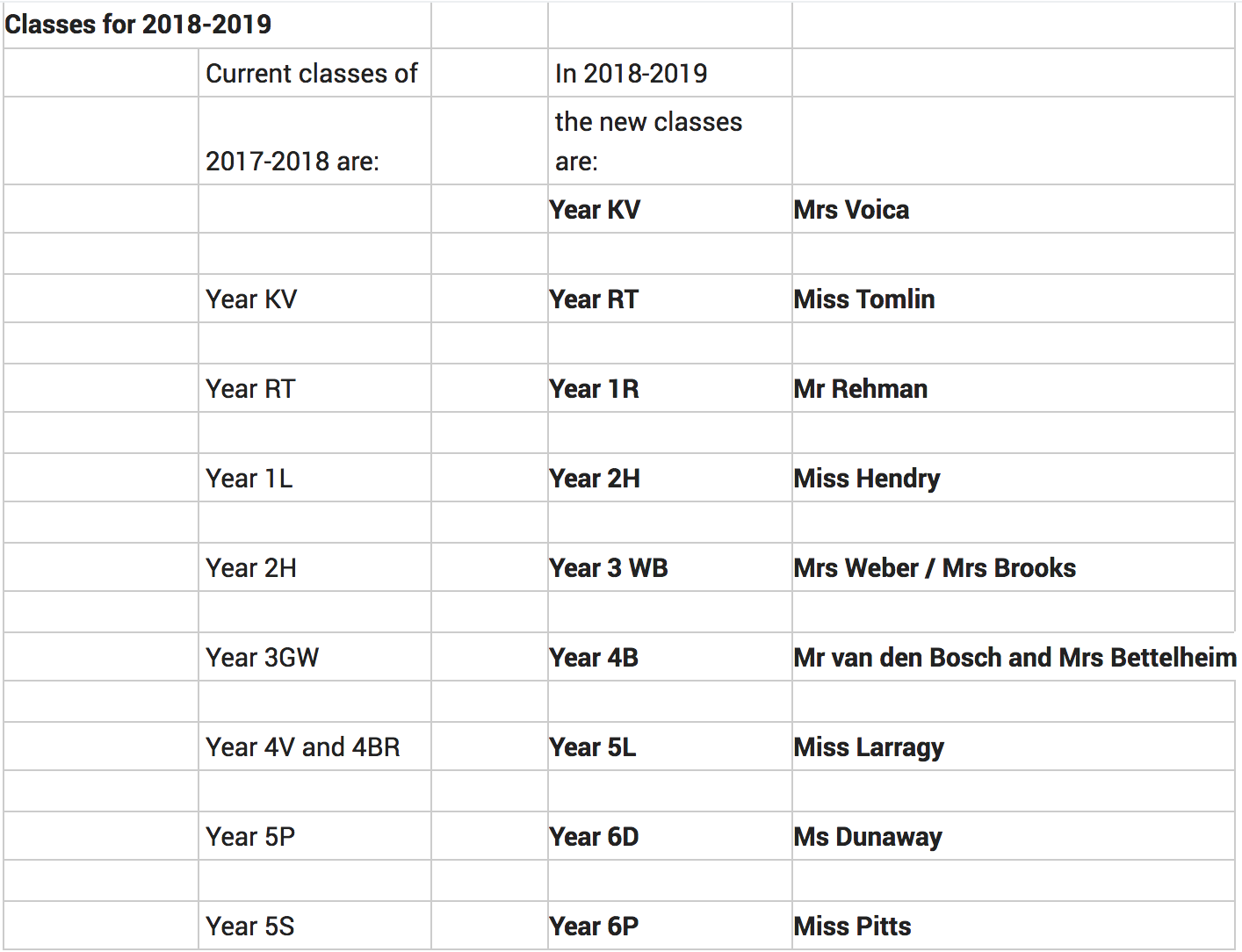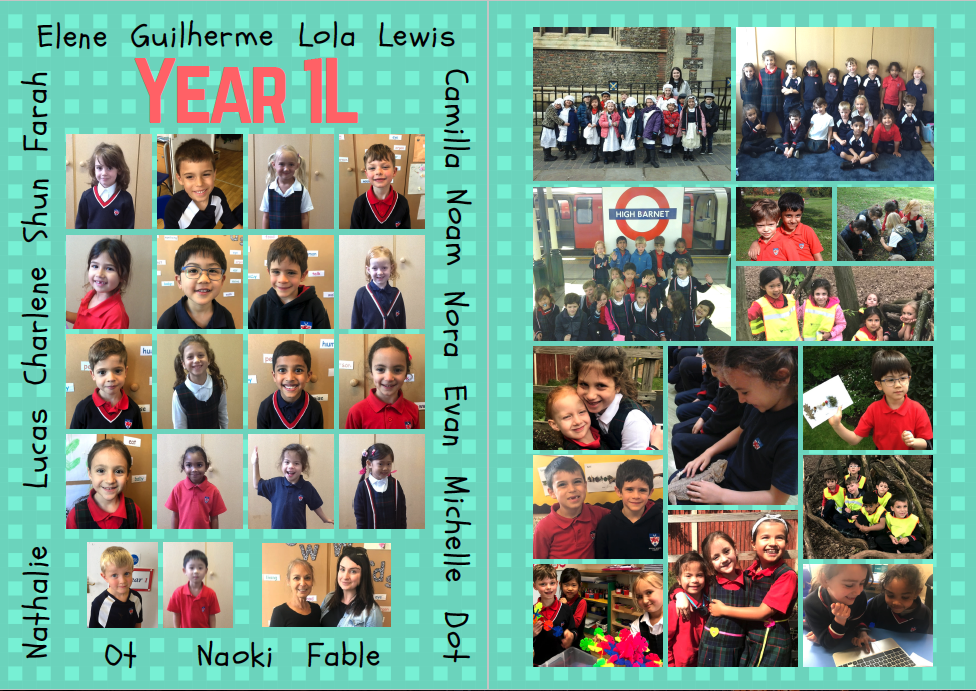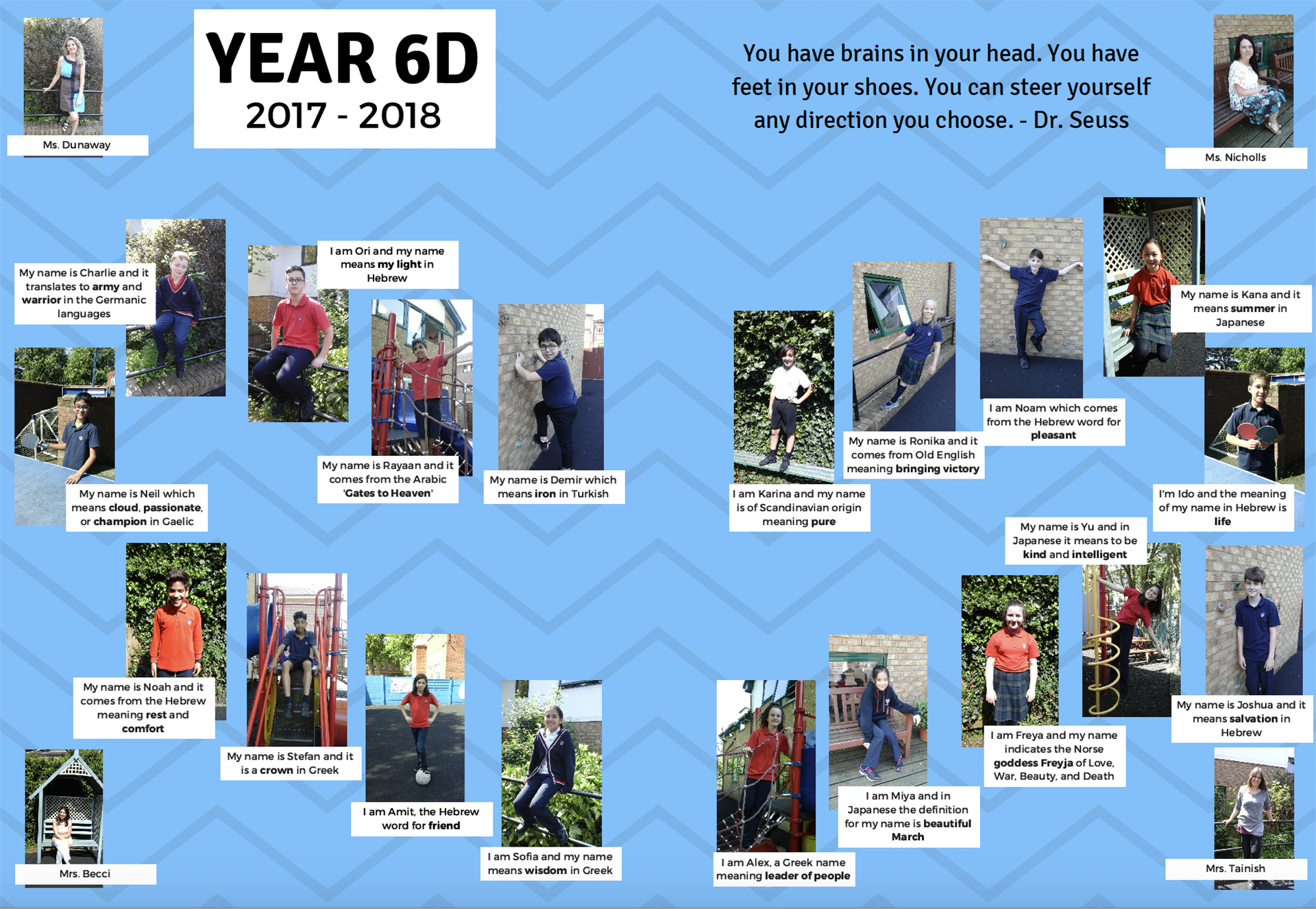 Yearbook
We are really excited to announce our Whole School Yearbook is now complete. This year it features over 170 pages of memories from Kindergarten to D2 from this academic year.
We are delighted to be able to offer the same discounted price as last year of £20 to anyone that orders the Yearbook by Monday, 25th June. The yearbooks will arrive before the end of term and only a limited amount will be available without pre-ordering at £25.
Yearbooks can be pre-ordered under the General Payments section of WisePay.

We are sure you will love it as much as we do!
House Hoodies and T-Shirts are on the way!
Many parents and students have asked about House t-shirts and hoodies, so due to the high volume of requests, we have sourced some t-shirts and front zipped hoodies for each of our three Houses. We are very excited that they have now arrived. You can order them online via our website here. We will also be selling them at our Summer Fair!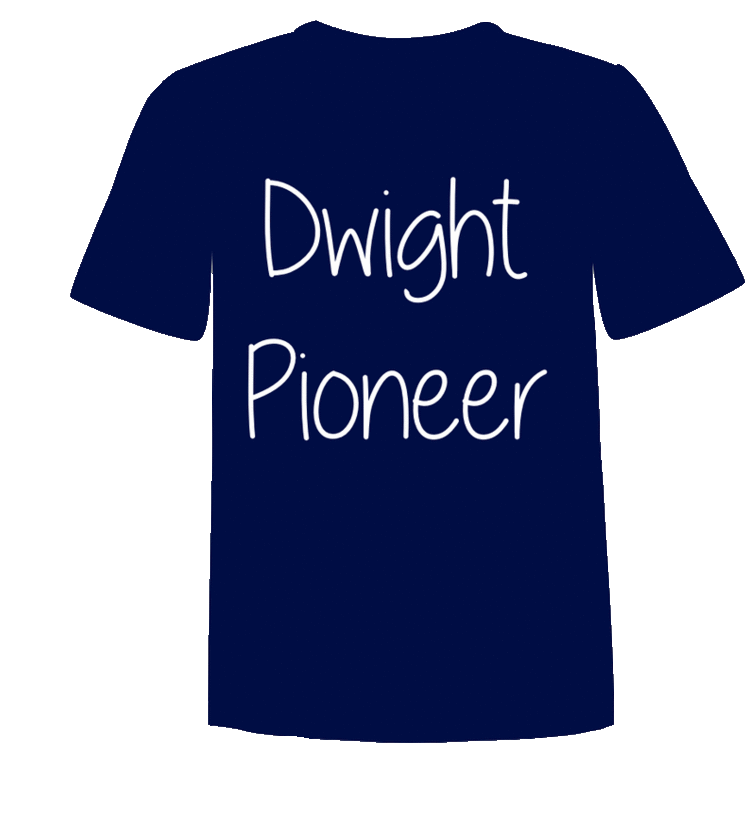 Super Question and Language of the Week
Congratulations to Ethan Bond who correctly informed us that exactly 100 years ago women won the right to vote in the UK - He gets a Sparky for being so knowledgeable. The final Super Question of the year is - What celebrates its 70th birthday in July?
Our Language of the Week was sign language and we tried to sign "s-u-m-m-e-r f-a-i-r"
Have an enjoyable weekend. I hope to see you tomorrow 
Kind regards
Matt Parkin
Lower School Principal
Reminders 

Absence  reminder: Please ensure that you let the office and the class teacher know if your child is likely to miss a school day due to absence.
Hot Weather Reminder We want to remind all parents that as the temperatures are getting higher. We believe it could be over 80 degrees next week.  We recommend wearing hats and applying sunscreen to your child/ren during any hot spells.
Key Dates in the last two weeks
23rd June -  On Saturday It is the Summer Fair

25th - 29th June - Next week Year 5 have their WOW lessons and learn how to look after and ride a bike sensibly.

27th June -  On Wednesday it is the IBPYP Exhibition from 6-7.30pm

27th June - On Wednesday it is the EYFS Cake Sale at 3.30pm

29th June - On Friday it is our Year 6 Leavers assembly from 9-9.30am - Year 6 parents are welcome to attend

29th June - Friday is the Year 6 Cake Sale and end of year Student Council School shop sale after school.

2nd July - On Monday, 2nd July it is our Prizegiving/Speech day from 9-10am and our Transitions day.

3rd July - On Tuesday it is our Whole School House event and it is Development Tuesday. You would have received a letter and seen that all students are to be picked up from the field at 2.30pm on that day.

4th July - On Wednesday is the last day of the term and of the academic year.
Wednesday - 27 June 2018
6:00 PM - 7:30 PM
Friday - 29 June 2018
9:00 AM - 10:00 AM