Friday,  22nd  June  2018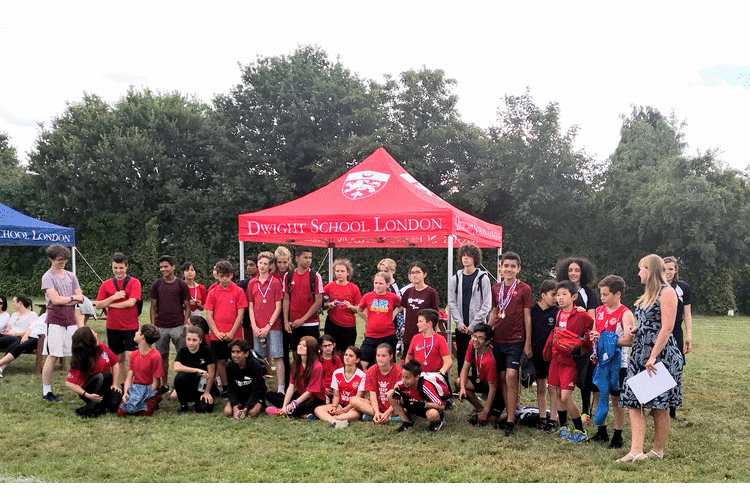 I hope you are all looking forward to the Summer Fair tomorrow that promises to be a fun-filled day for all involved. Thank you for all the tombola bottle donations this week. We certainly have no complaints about the weather this year so we hope to see you there whether you are helping or simply enjoying the day. Its starts at 11am.

House Sports Day
The whole of Upper School headed down to the field on Wednesday for the annual Sports Day, that British phrase for what the rest of the world calls an inter-house athletics!  House spirit is thriving at Dwight and the students competed well in a variety of track and field events. The cup this year went to the Pioneers and the House Captains Ion and Orabella proudly raised the trophy. The PHE department organised the day and under the leadership of Ms. Mills it ran like a well-oiled machine. It was great to see so many more parents this year and we hoped you enjoyed the barbecue lunch. We will be adding up all the points over the year in sporting and other house events as well as the individual house points and presenting the House Shield on the 4th of July.
MYP Art and Design Exhibition
Well done to all the students who had their annual display of art and design work in the hall on Thursday. Miss Ross, Mr. Turner and the team did a super job in making the experience an interactive one with students voting for their favourite pieces and staff being able to reserve artwork to be displayed in the school. The Jubilee Hall was awash with colour and imagery and the boards will stay up for a week so do please drop by.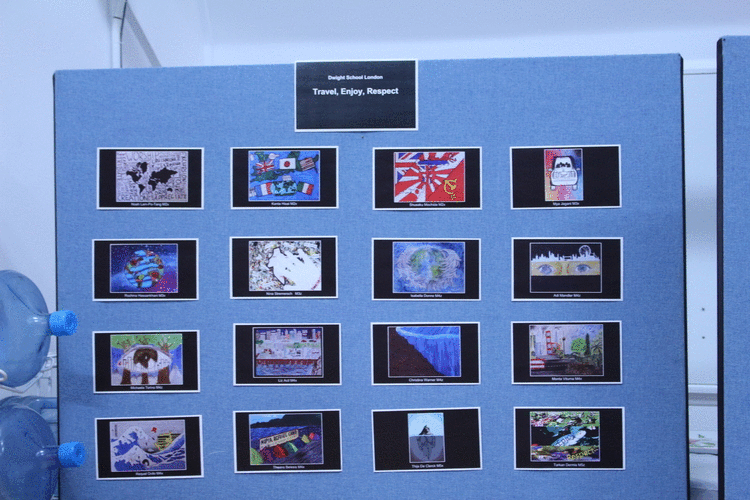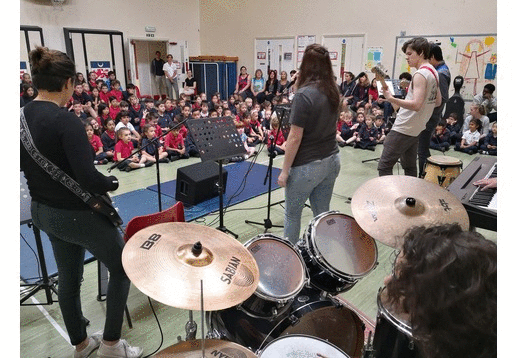 Musicians Perform for the Lower School
Last Tuesday, Mr. Kraft packed the van with all the musical instruments and headed down to the Lower School with some of our top musicians. The Lower School students and staff were delighted to hear the sounds of our rock band and other musicians. The students and staff were all dancing and smiling so it was well worth the trip.

Costumes to raise awareness
Today you may have spotted a Princess, a Ballerina and a hooded figure around campus! This was all in aid of raising awareness for how homeless women need so much more than just food and clothes. For their comfort and hygiene, they need feminine products, and their poverty prohibits them from purchasing such items. Well done to Nina, Alma and Rozjina for setting this up.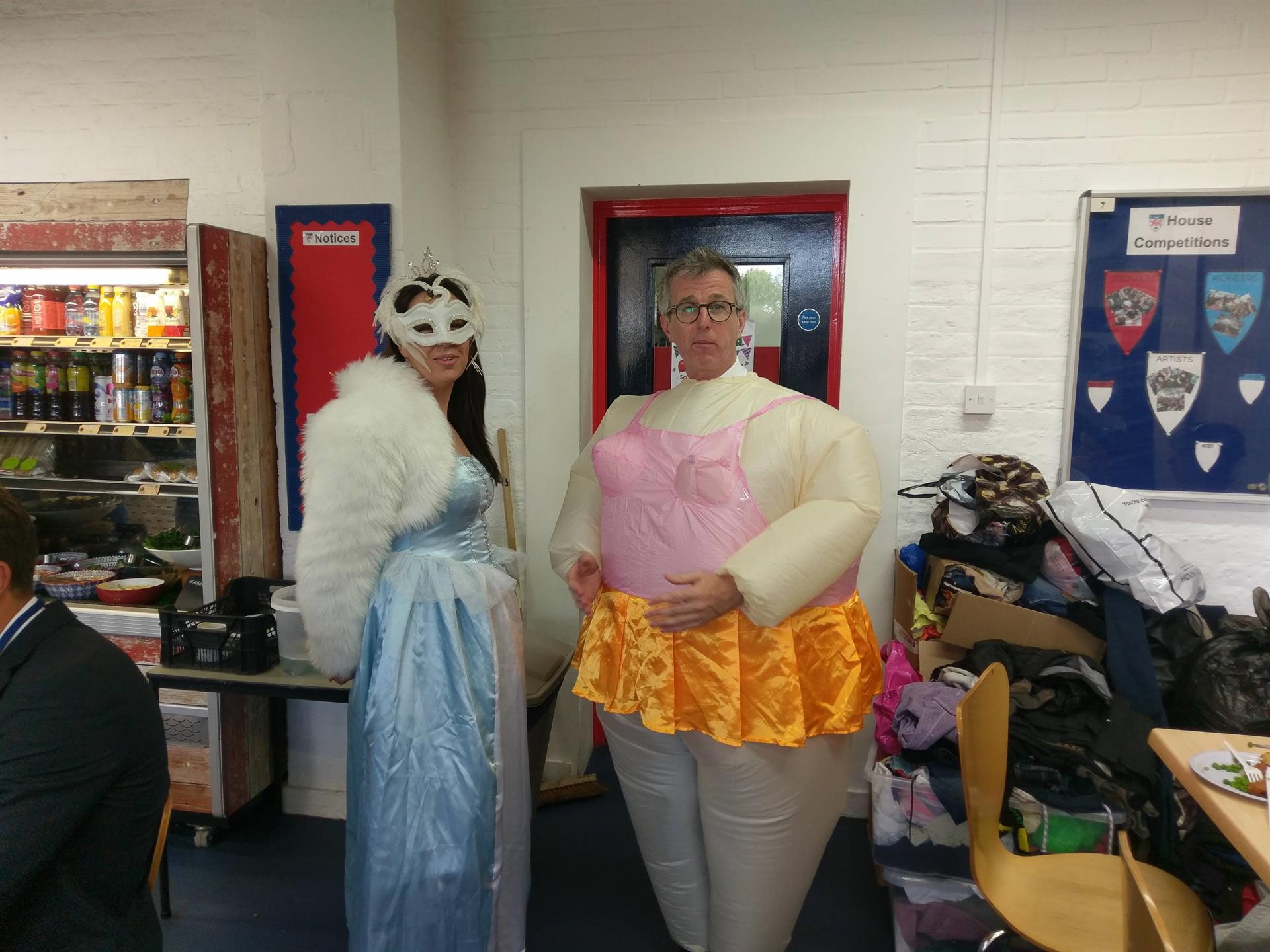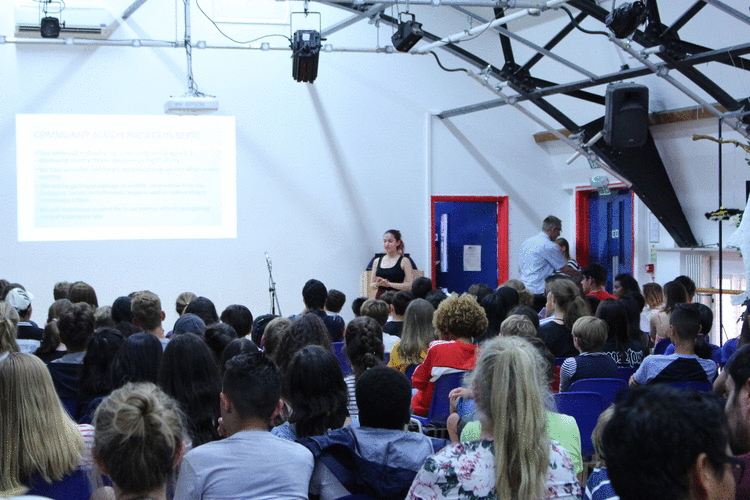 Third Diversity Assembly
We are very proud of how our students have rallied this term to raise awareness around issues of diversity and inclusion. This afternoon saw a series of talks on racism and the rights of indigenous people led by the students. Whether it was islamophobia, the Black Lives Matter movement or personal experiences of facing racism, the talks are part of Dwight's campaign to ensure a zero tolerance on prejudicial language and behaviour in school as well as impacting the society around us.
Finally we wish all our M5 students the very best as they go out to enter the world of work next week on work experience. Most of our students have arranged something for next week although others have found alternatives in the summer or earlier in the year. If you have any doubts about your child's arrangements, please contact Ms. McCaffrey at school. As our M5 students have been busy with taster days and work experience, Dwight TV will relaunch in September.


I hope to see many of you at the Summer Fair but if not, enjoy the sunny weekend.

Andy Atkinson
Upper School Principal.
Summer Fair - Saturday, 23rd June
We have some fantastic activities lined up for this year's Summer Fair and a fabulous range of raffle prizes, including a £250 voucher off your next flight!
Activities include:
The Dog Show - do not forget to bring your pooch, are they the next Best Dog?
The Great Bungee Run - It is time to weed out the strong from the weak with this great inflatable activity!
International Food Stall - What is there not to love about this?
Pimms - Our summer favourite!
Bottle Tombola - Could that bottle of champagne be yours?
Face Painting, Nail Art, Temporary Tattoos and Coloured Hairspray - Who doesn't deserve a makeover?
Hook-a-Duck - One of the annual favourites!
Bouncy Castle and Inflatable Slide - Another favourite of ours!
Used Uniform Shop - We all love a bargain!
The Dwight Catapult! - A new game that looks so much fun!
So many more - the newsletter would never end if we included them all!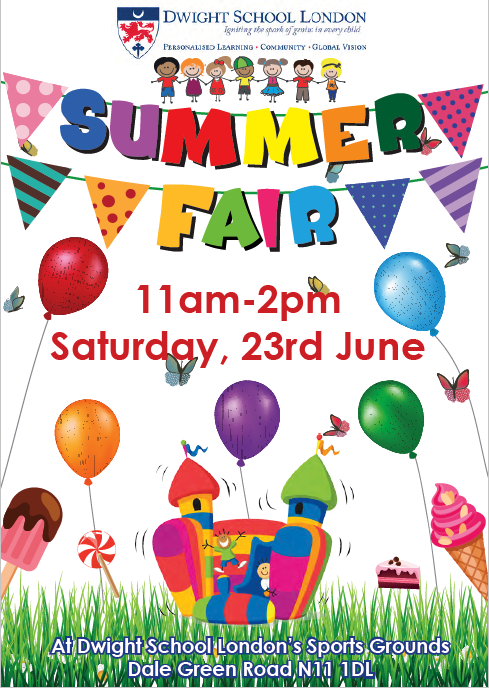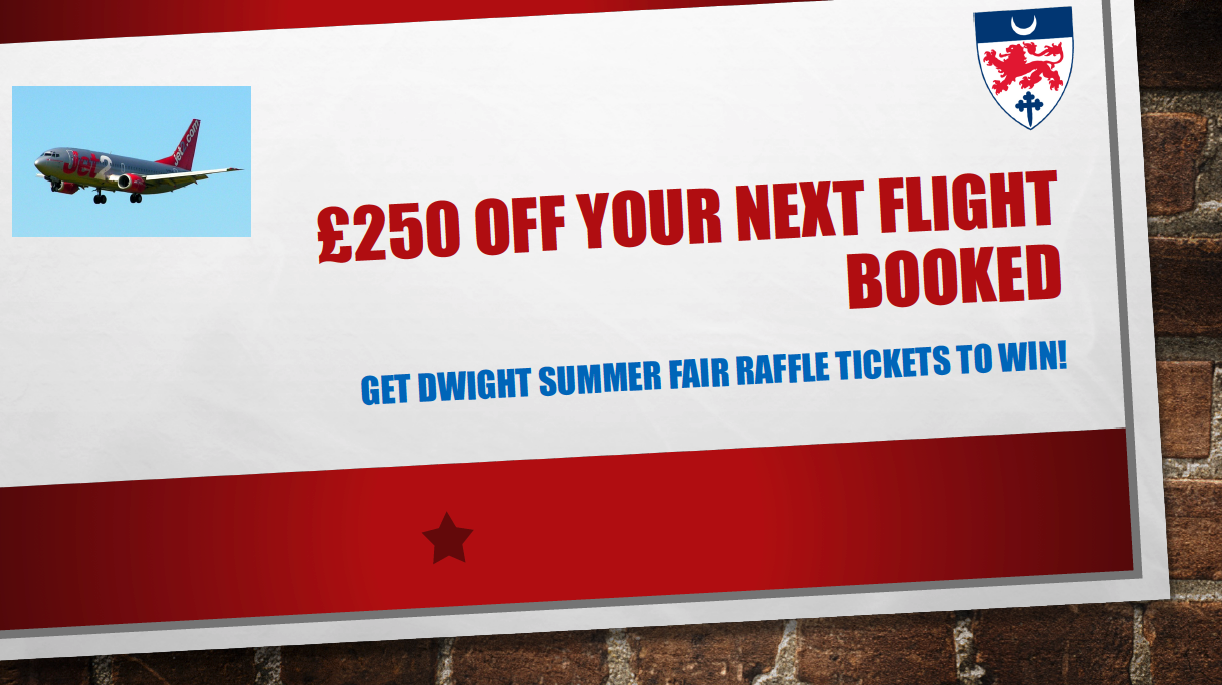 After the success of the token system at the Winter Fair, we are going to use the same idea at the Summer Fair. Each token will be worth 50p and activities will cost between 1 or 2 tickets to participate.  Tokens are now only available to purchase on the day.

We cannot wait to see you all there!
D1 Research Trip next Tuesday
D1 students will attend the workshop called Digital Research at the British Library next week. The event will take place on Tuesday, 26th of May from 10.30am to 2.30pm. The British Library's address is  96 Euston Road, London, NW1 2DB (by underground: King's Cross St. Pancras, Euston and Euston Square). The students should make their way on their own and meet Mrs. Marquez and Mrs. Boyle, the designated teachers for the day, at 10.00am, in front of the building. Please, remind them they will have to bring their packed lunch. Students will leave the British Library at 2.30pm and they will make their own way home.

M2 Trip next Tuesday
Next Tuesday, our M2 students are on a trip to Lord's Cricket Ground. Cricket is a new unit this year and the M2 students are excited to have the opportunity to tour the facilities and even play a game of cricket on the ground. The students will be accompanied by Miss Mills and Mr. Masilungan. Students will leave school at 9.30am and return approximately 3.00pm. Students will need to bring a Oyster Card topped up for use in the underground as well as a packed lunch, snacks and water bottle in a small backpack. Students can wear their full Dwight PE kit to school for the day. Any questions regarding the trip, please feel free to contact Miss Mills.
M1 Trip on Monday to Mountfitchet Castle
As part of the Individuals and Societies Medieval unit studied earlier this year, a trip to Mountfitchet Castle, Stansted has been planned on Monday, 25th June. This trip will be a unique experience for the students as it is the only medieval castle and Norman village on its original site in the world! Students will travel by coach, leaving from Spahn Campus at the beginning of period one and return before the end of the school day. Students will need to bring a packed lunch with plenty of drinking water and appropriate clothing (e.g. sun cream and sun hat or rain coat) as it is all outdoors.
Upcoming Events and Dates
25th-29th June: M5 work experience week

26th June: M3 Community Project Evening 6.30pm

28th June: M1 and M2 visit IBPYP Exhibition

28th June: Spark Tank Evening - to be rescheduled

29th June: Book Fair

2nd July: IBMYP Celebration and Awards

2nd July: Semester 2 reports issued

3rd July

: Nepalese Tales Performance Evening

4th July: Last day of term for students (full day)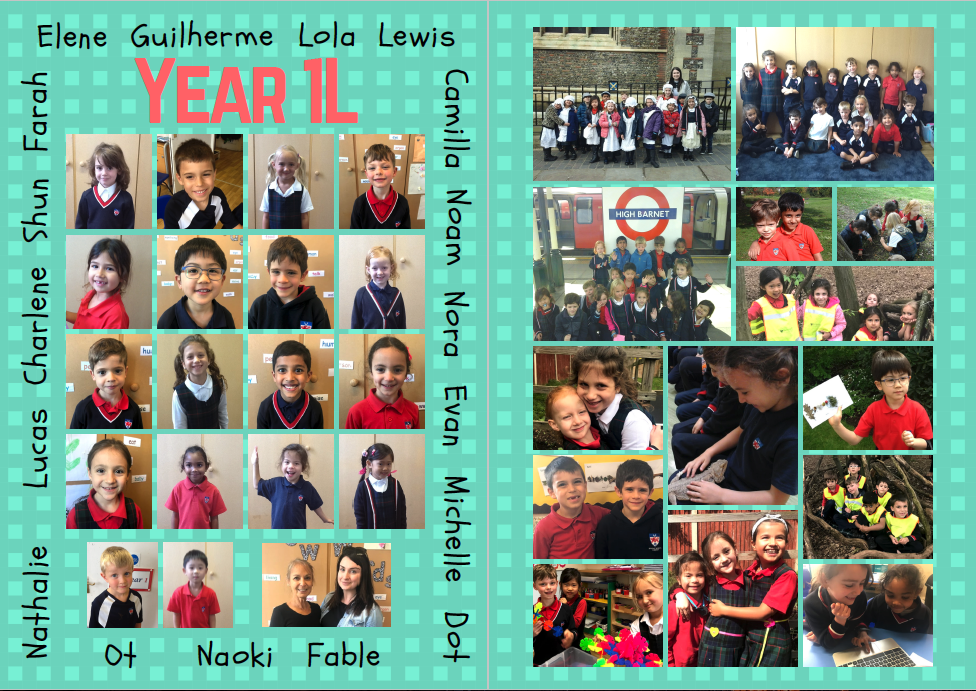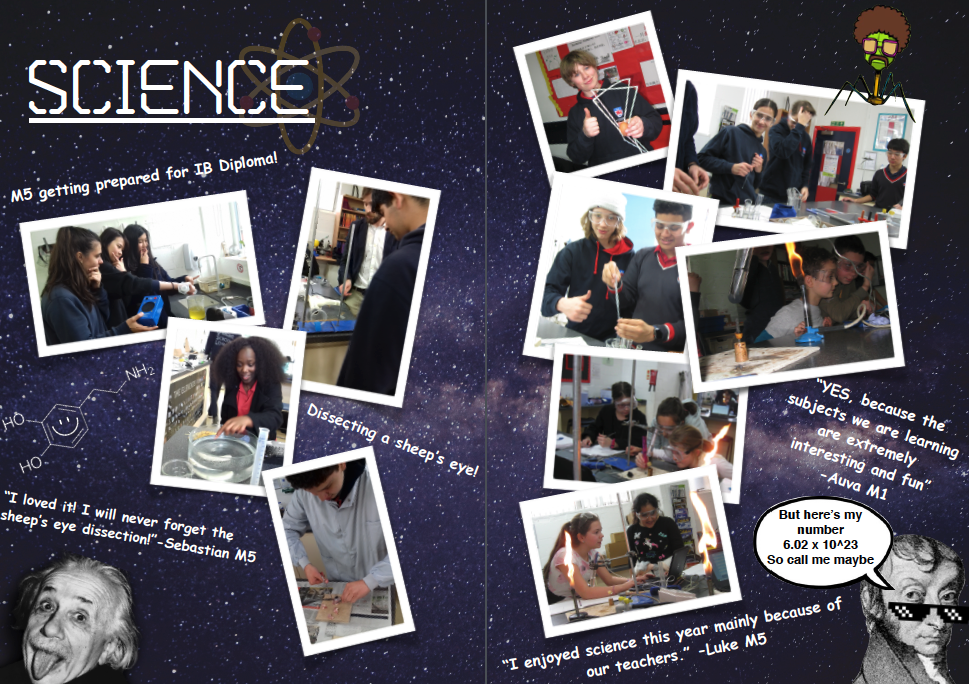 Yearbook
We are really excited to announce our Whole School Yearbook is now complete. This year it features over 170 pages of memories from Kindergarten to D2 from this academic year.
We are delighted to be able to offer the same discounted price as last year of £20 to anyone that orders the Yearbook by Monday, 25th June. The yearbooks will arrive before the end of term and only a limited amount will be available without pre-ordering at £25.
Yearbooks can be pre-ordered under the General Payments section of WisePay.


We are sure you will love it as much as we do!
House Hoodies and T-Shirts are on the way!

Many parents and students have asked about House t-shirts and hoodies, so due to the high volume of requests, we have sourced some t-shirts and zipped hoodies for each of our three Houses. We are very excited that they have now arrived! You can order them online via our website here. We will also be selling them at our Summer Fair!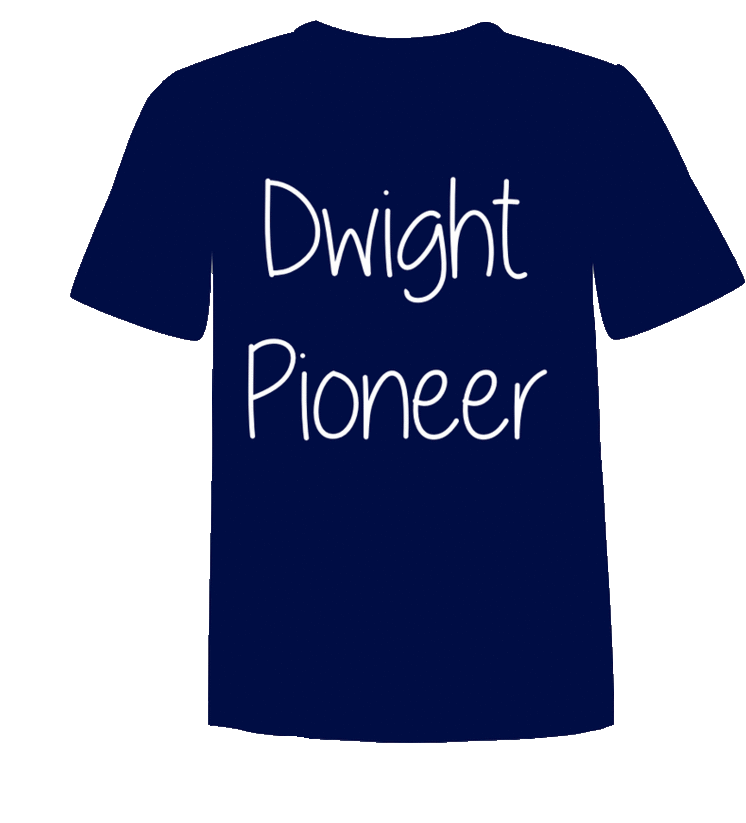 Monday - June 25, 2018
All day