Wednesday, 4th July  2018
Well I cannot believe we have all made it to the last day of the year and these last few weeks have been full of so many wonderful celebrations and events. This short week was no exception and here are some highlights!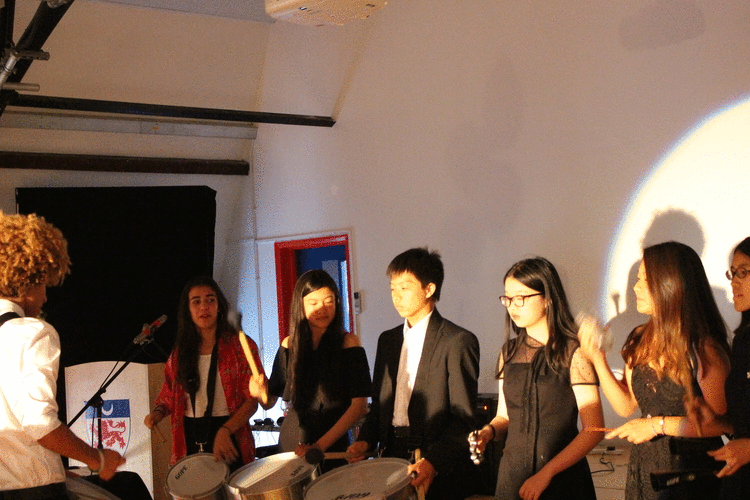 M5 Celebrate their MYP Success!
On Monday evening the hall was transformed into a festive space of family tables as Ms. Mather hosted the MYP celebration for M5. It really was a lovely occasion with super speeches from Mira and Sterling, some great music from Tarkan and the drum band and a touching speech by our Dean of Students, Ms. Veschi.
We got to celebrate academic success and some more light hearted moments as we enjoyed the super catering arranged by Mrs. O'Neil and Ms. Harriman. It marks a significant moment for a terrific year group and we wish those staying or moving on all the very best in their next endeavours.
Whole School Inter-House Football
As football World Cup fever takes over the globe, Dwight arranged an inter-house Whole School football tournament on Tuesday lunchtime. From Year 1 to Diploma, students of all ages participated eagerly in 10-minute matches while their teachers cheered.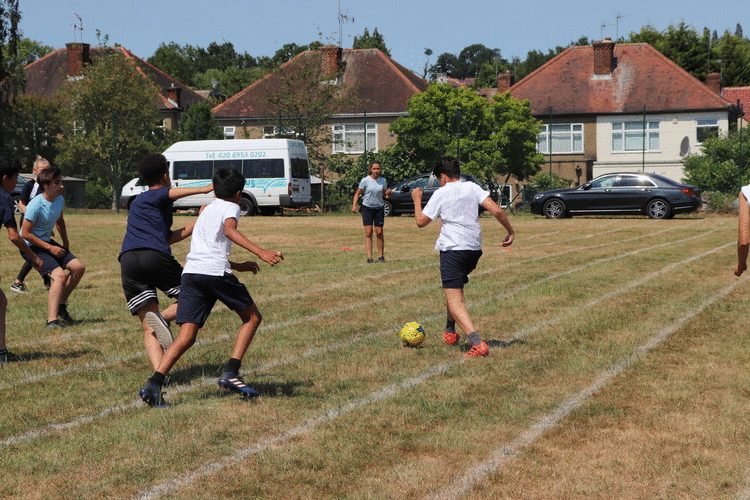 It was a little less competitive than the penalty shoot outs from Russia but no less enjoyable. Thanks to the House and PE staff for making this happen. Today we will find out the overall House Trophy winners adding up points from all the events.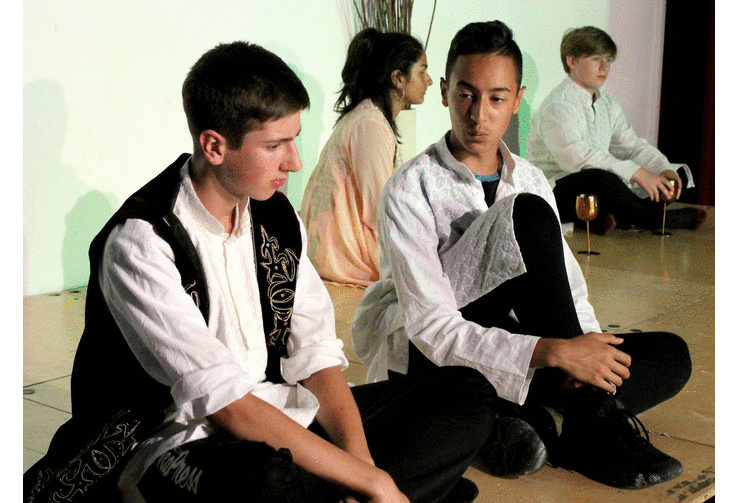 Nepalese Plays by M3
On Tuesday evening we were entertained and fed in Nepalese style. Enjoying some fine cuisine arranged by Ms. Sen we sat around cafe style and watched some original takes on traditional Nepalese folk stories. With Nepalese food, costumes, stories and even Nepalese beer, the evening was a delight.
This was the culmination of a year long focus on Nepal to raise our awareness and understanding of a country we have set up an active exchange with. Indeed, this weekend, Ms. Cobbin, Ms. Sen and five senior students fly out to Nepal on our first student reconnaissance trip to establish how we can help and learn from a school community there. It is a long term commitment and I am so proud that Ms. Sen has made this happen for our students.
Contemporary Performance in the Playground - by Ms. Marquez
During the last fortnight, the Spanish A students from Diploma (Carla, Helena and Dario) and I have been working on the play Waiting for Godot by Samuel Beckett as a part of our unit works in translation. This is a very interesting but difficult play to work with, because it addresses painful topics related to human condition.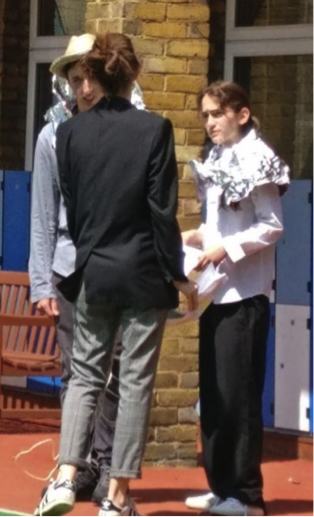 We have been studying how the work reflected the impact of wars, especially World War II. To deal with these heavy topics, we decided to perform some fragments of it but, addressing a current issue, adapting it to our time. So that is what we did last Thursday during lunch time in the playground. For us, its protagonists, Vladimir and Estragon, are still out there in many ways. We thought they could be refugees and we tried to present their current condition in Europe, waiting for their legal situation to be solved.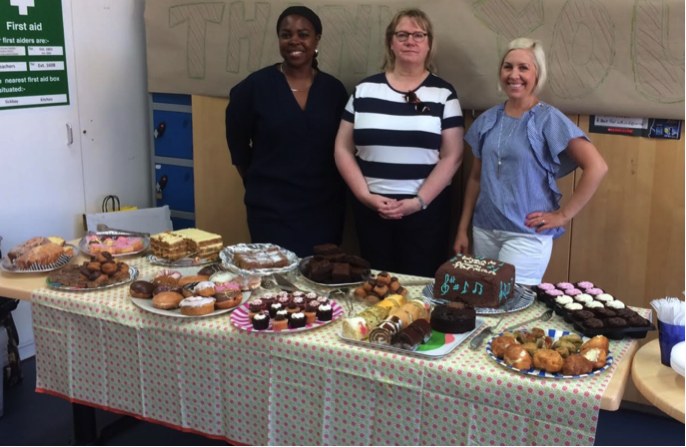 Feeling Appreciated by the DPA!
On Tuesday the DPA and students showed their appreciation for staff with an abundance of cakes and some heartfelt messages to teachers. The calorie content was high and it gave us a sugar rush to get us through a tiring day. Thanks a million to Kate, Angela and Michelle for organising the treats and to the students who wrote such kind words.
Our Fantastic Mural is Painted!
Rozhina's winning design from M3 is now a reality as the huge mural boards have been painted under the careful guidance of Ms. Ross. I could not be more delighted to have a stunning set of art pieces for the Spahn campus, and we are going to find the best place to hang them over the summer.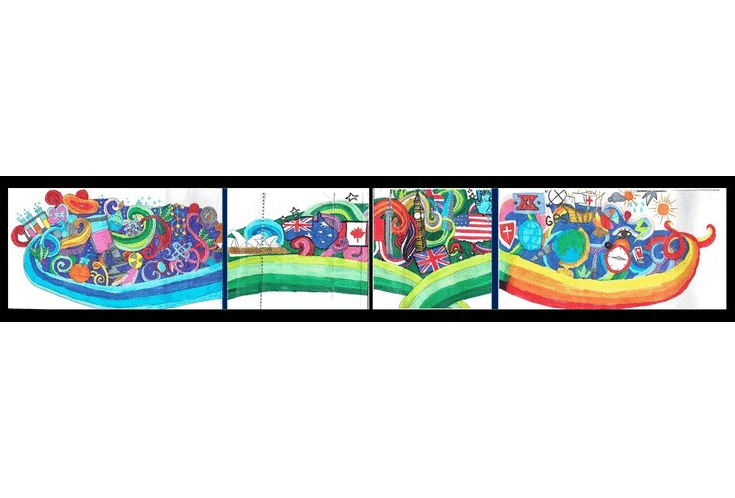 It celebrates the sciences, social sciences and language learning in Dwight and it has a real international flavour. Take a look at the images here!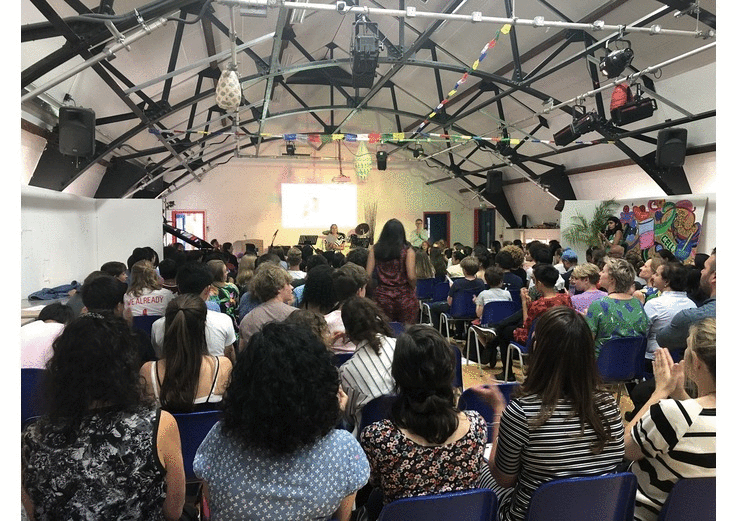 The Last Assembly on Wednesday
As this newsletter goes to press, we have just finished an assembly in Jubilee Hall celebrating term three moments and, sadly, saying farewell to some students who are moving on and overseas. This is always a tough moment to say goodbye to great friends and colleagues.

To keep us cheerful we have had some musical pieces from the students, awarded academic success and contributions to school life and cheered the winning house! Thanks to Ariana, Ana and Haya for hosting!
Reports
I hope parents and students all received their reports on Tuesday afternoon. If you have any feedback or concerns, our teachers are working through to tomorrow lunchtime before heading off for summer. We hope the grades and advice given sets them up for summer and further strides next year. The teachers take great pride in writing constructive and detailed reports and I want to end the newsletter by thanking them for their hard work. They all deserve a great break.
Summer
Just a final word to say the school remains open for the summer but the Spahn campus from next Monday becomes a building site as we prepare for a wholescale renovation of the science labs. As a result, all the upper school administration will be from the Jubilee building. I will be there for much of July and Mrs. Cobbin more in August should you need to get in touch.
Next Year
Please make a note in your diaries that the first day of term of the 2018/9 academic year is Monday, 3rd September. The student and parent handbook with more information about next year will be coming to you later in July and this should have all the facts you need to prepare for the next academic year.

I want to wish you all a very happy summer holidays and wherever you are heading have a wonderful time and return safely to Dwight or your next port of call. It has been a very intense but extremely productive year in the Upper School thanks to the dedication of staff and students and the support of parents. I have loved my first year in Dwight and have learned a great deal from the successes and challenges. I head to India for some holidays and hope to return rested and inspired for another great year ahead.
Happy holidays everyone!
Andy Atkinson
Upper School Principal

What can our Students do this Summer
There are lots of exciting learning opportunities that could enrich your summer.

Future Learn
This online platform offers a huge variety of free courses run by prestigious universities inside and outside the UK. All level are welcome.

Please click here for more information.

Oxbrige Programs
For those students interested in disciplines such as Literature, Art History, Politics and Economics, Drama, Creative Writing, Speech and Debate, Medicine, Law, Business, Architecture or Filmmaking.
All levels welcome.

Please click here for more information.

French and Spanish Courses in London
Institut Français, Instituto Cervantes and Hua Hsia Chinese School are offering language summer courses from beginners to more advanced students.

French courses: https://www.institut-francais.org.uk/french-courses/group-courses/young-learners/


Spanish courses:   http://londres.cervantes.es/en/courses_spanish/spanish_courses.htm


Mandarin courses: https://www.huahsiachinese.org.uk/courses/