What a year!
I think it is fair to say we could never have expected the surprises of 2020. This year, we will have learned to be flexible problem solvers and over the next month I am sure we will find new ways to celebrate and to support each other during the festive period.
Over the course of the year I have been grateful for the feedback the school has received on our remote learning and the measures that we put in place to make the school environment safe on our return to the classrooms after lockdown.
Your feedback has helped us to identify good practices and where we have needed to make improvements. I would like to ask you one more time to complete this short survey to support our planning for 2021. The survey should only take a few minutes to complete and your comments and suggestions are invaluable... Read more >

Tuesday 8th December
Our whole school Development Tuesday. This is a chance for the teachers to have an extended period of time together and to learn and grow in different professional directions, as well as learn from each other. Students will be dismissed from school as follows:
Upper School dismissal time:
2:45pm for all year groups
Lower School dismissal times:
2:30pm for Kindergarten, Reception, Year 1 and Year 2
2:35pm for Year 3 and Year 4
2:40pm for Year 5 and Year 6
Thursday 10th December
Catch the winter concert livestream at 4-5pm live on Youtube.
Friday 11th December
Last day of school. All students will be dismissed at 12 noon from both the Lower and Upper School campuses. On this day, we encourage students to wear their finest Christmas festive jumpers as we round out a successful first term!
Children of the World
Last week, we sent a teaser of the Year K, R, 1 and 2 Christmas show. Now, the full video is available. Their lovely show will put a big smile on all of our faces, whether it is the rhythmic dancing moves, the enthusiastic singing, the seriousness of the bossy angel or just the drama of winning a raffle prize!
Sharing Assembly with Year 4
Our Year 4 students had their own online Sharing Assembly on Friday. They did a great job as they are the first class to try this since COVID restrictions have been in place. They shared their scientific work with some interesting experiments, their class story, and even had a scientific method dance too! They certainly informed and entertained us.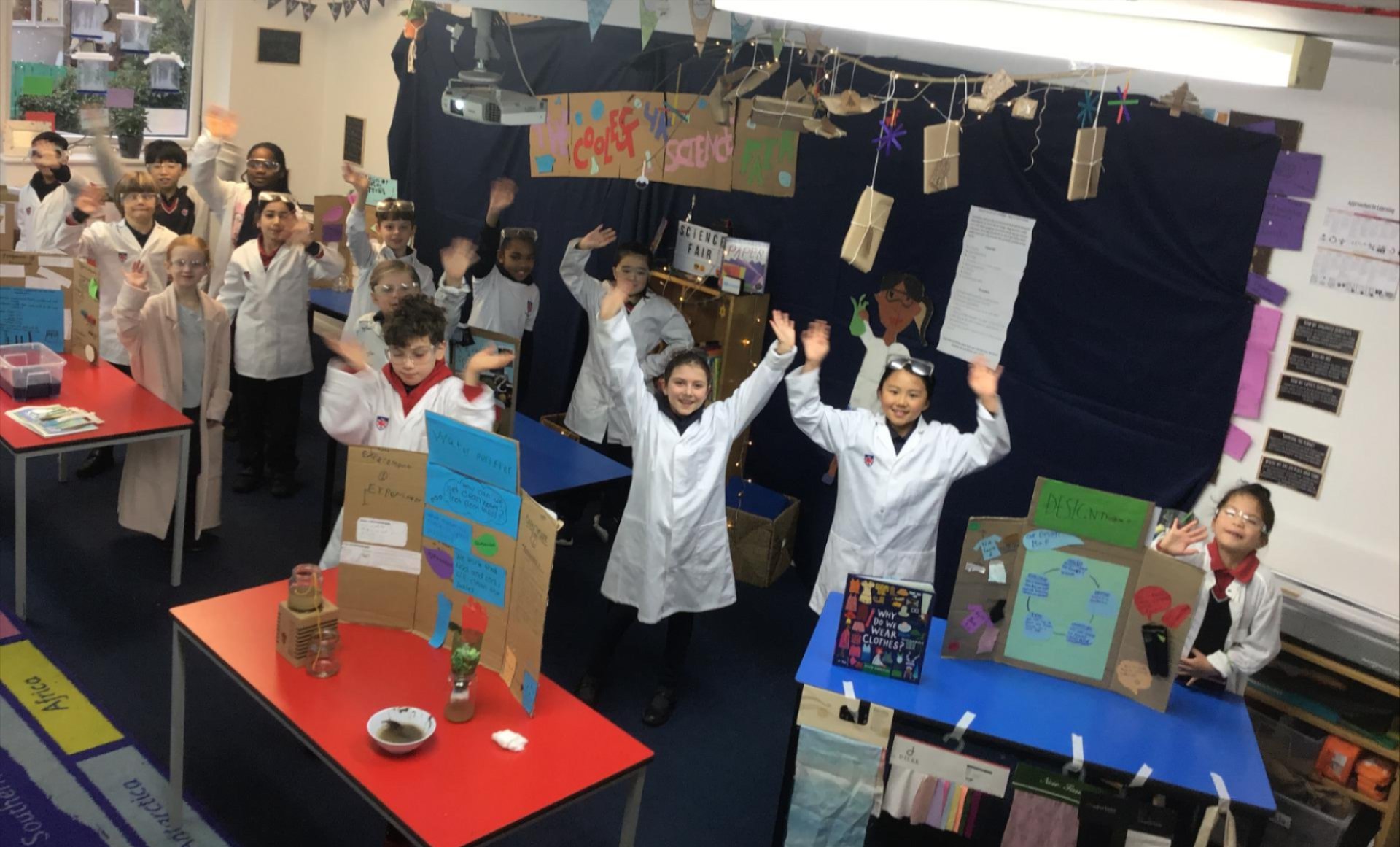 Art attack
This week several students for the Lower School took part in an inter-schools competition to design a Christmas banner for a newsletter/bulletin. We were really proud of their work and have added their work throughout this newsletter! Keep an eye out for them today and next week. Some were collaborative and some were individual - thank you to Camilla (Y4), Illiana (Y5), Nami (Y6), Year 1/2 and Year K/R.

Christmas banner © Year 1/2
House news
Chessmania - the results are in and we want to say a huge congratulations to Mduduzi Ndlovu and Joshua Hood for their respective M4/5 and M1/2/3 wins. There was an impressive level of competition and some hard fought games. Well done to both boys for emerging victorious - you can now claim the prestigious 'best chess players in Dwight' title for the rest of 2020/21!
Report cards
A reminder that report cards are published after 4pm today on ManageBac. Please look out for an email alert to notify you when the reports go live on this platform.
DP tutor time - morning
From next term, our DP students will have their tutor time from 8:30 - 8:45am in the Jubilee building. This is a change from the afternoon slot that we had during the first term.
M1 language switch
Our M1 students have done a superb job inquiring into the first world language of the carousel model in M1. The students have benefited from the world class level of French teaching for 4 sessions during this first term, and will now move onto Mandarin! Here is a welcoming note from Ms Liu:
"I hope you are all keeping well and safe.
As the end of term is fast approaching, I'd like to reach out to you to introduce myself and welcome you to our Mandarin class!
My name is Ms Liu, and I am pleased and excited to be your child's Mandarin teacher for next term. We will learn to read and write on topics like greetings; family; numbers and dates; Chinese New Year celebrations and many more.
M1 students, I am truly looking forward to working with and getting to know each one of you. I hope that you enjoy learning Mandarin as much as I enjoy teaching you!
The Mandarin lessons will start from next Monday 7th December until 19th March. If you have any questions, please feel free to contact me.
Have a lovely weekend.
Warm regards,
Ms Liu"
Remote learning
Our M5 students will be surveyed next week to find out their perceptions, opinions and thoughts on the Tuesday Remote Learning sessions we have been piloting with them for this half term. Student voice is so crucial to inform best practice and make the school a continually better place, and we will listen to this feedback in order to determine whether we offer Remote Learning as an option each week as opposed to every other week.
Expedition to Ecuador and Galapagos, Summer 2022
Last Friday a representative from Camps International, an ethical adventure travel company, came into school to talk to M3-5 students about an exciting trip and service opportunity. The students found out that they could spend four weeks of their summer holiday in 2022 travelling around Ecuador while helping local communities improve their water supplies, schools or homes.
Our students asked some excellent questions, showing both their caring natures and risk-taking spirit. More information and contact details were sent home in this letter, along with a video overview. The school sign up date is Thursday 10th December 2020. Please contact Miss Castle (vcastle@dwightlondon.org) if you have any questions.
Enrichment opportunities
In this STEM special, you can find out how to walk on water using mechanical engineering, hear from experts about university and STEM careers, or attend a Summer School for girls interested in engineering.

Christmas banner © Illiana (Y5)
EAL lessons for parents
Usually at this time of year we start arranging EAL classes for our parents. I'm pleased to say that we plan to do so again in the new year, although it will all take place virtually on this occasion. Please pass on this good news to any families that are interested in improving their English as a foreign language.
Forest School
"This week, the Year 5 and 6 children introduced me to the game 'Capture the Flag' which we ended up playing for the majority of the session. It certainly gave us all some much needed fresh air and exercise. Also, after seeing us struggling to carry all of the kit we need to take to Forest School, Mrs. McCullough bought us a fantastic trolley. This was very popular with the Year 3 and 4 students who insisted upon pushing it to the park for me. Being a rainy day, the children had a go at putting up tarp shelters and they were very successful indeed!"
- Ms Tomlin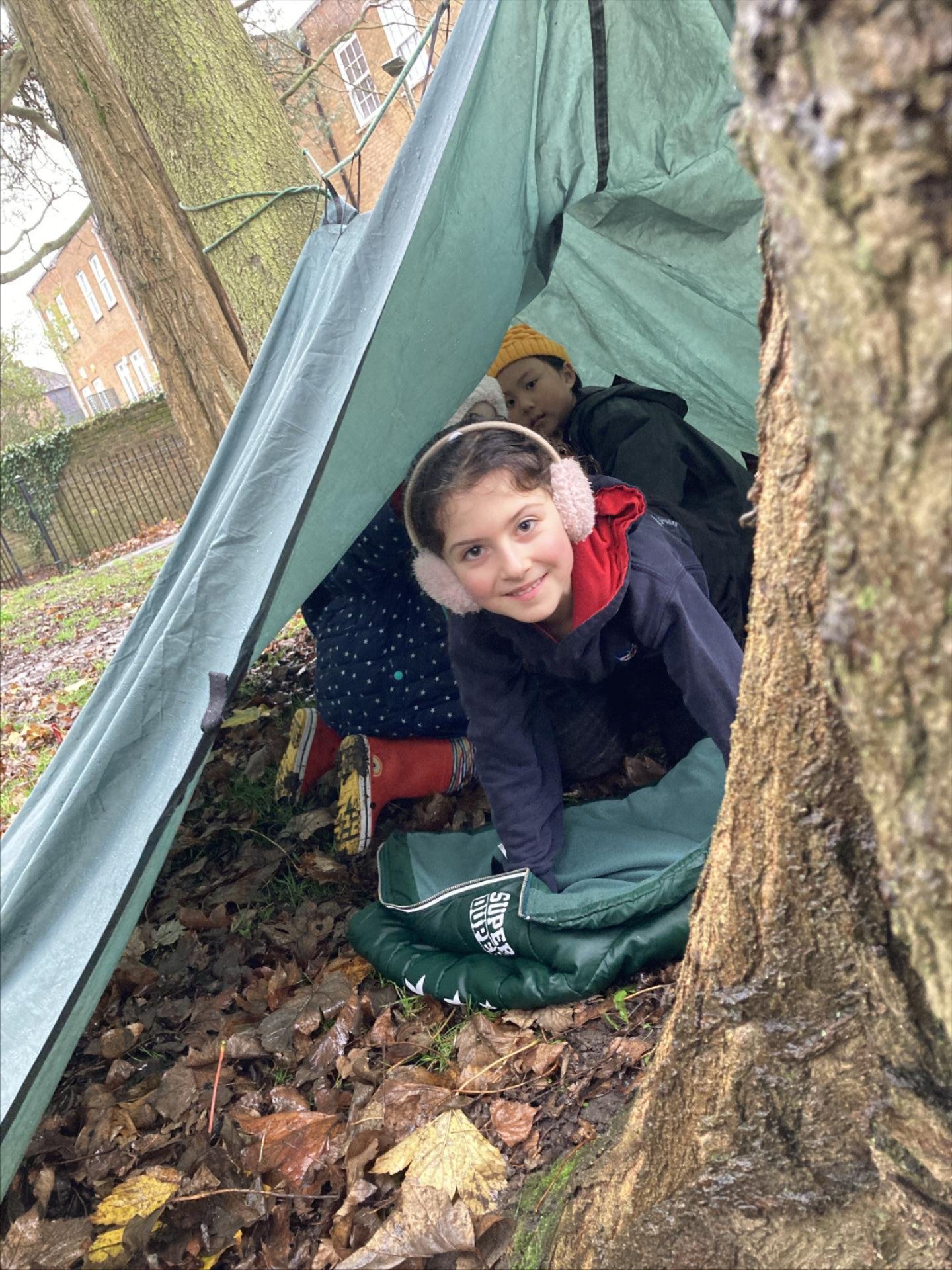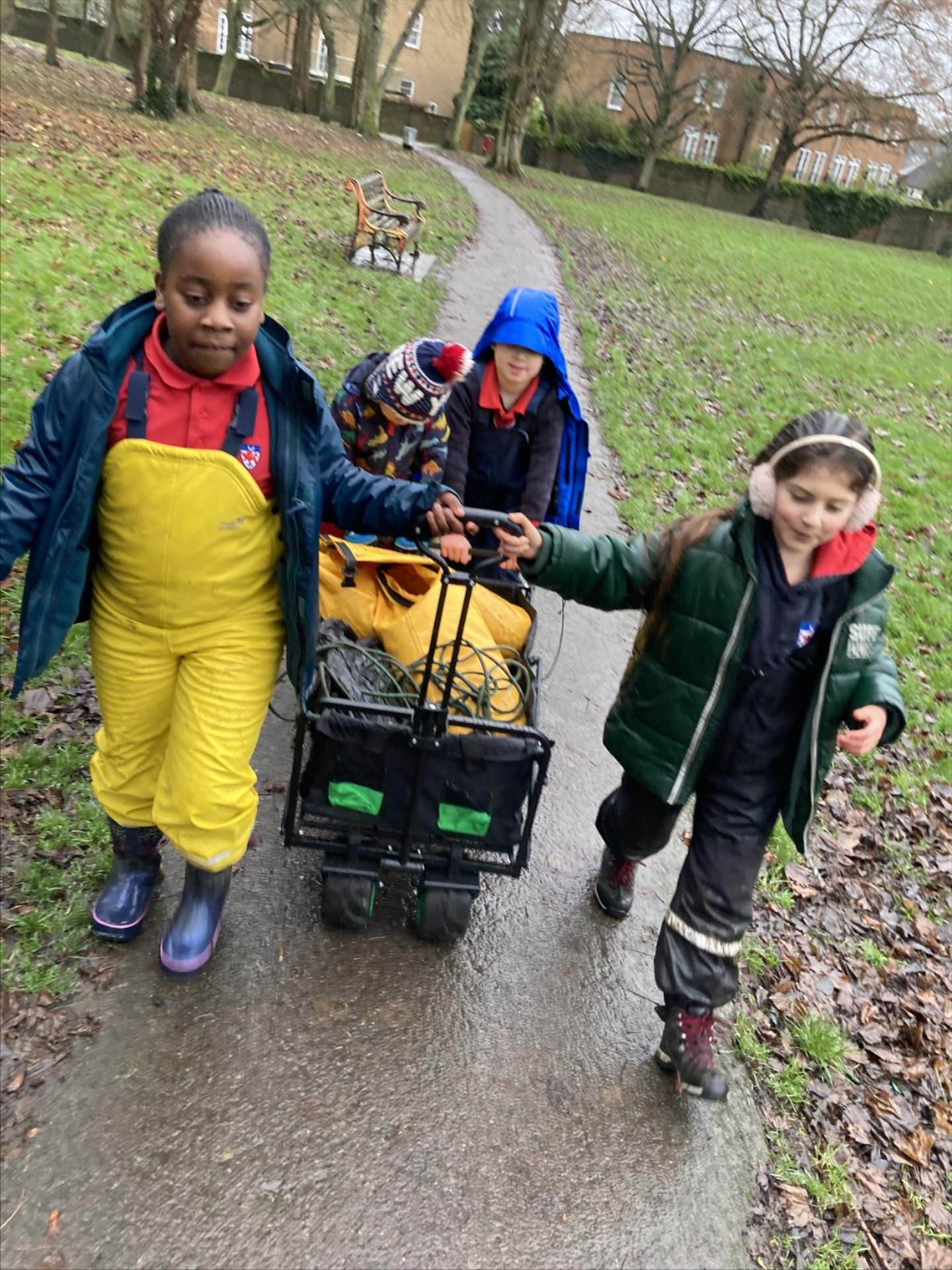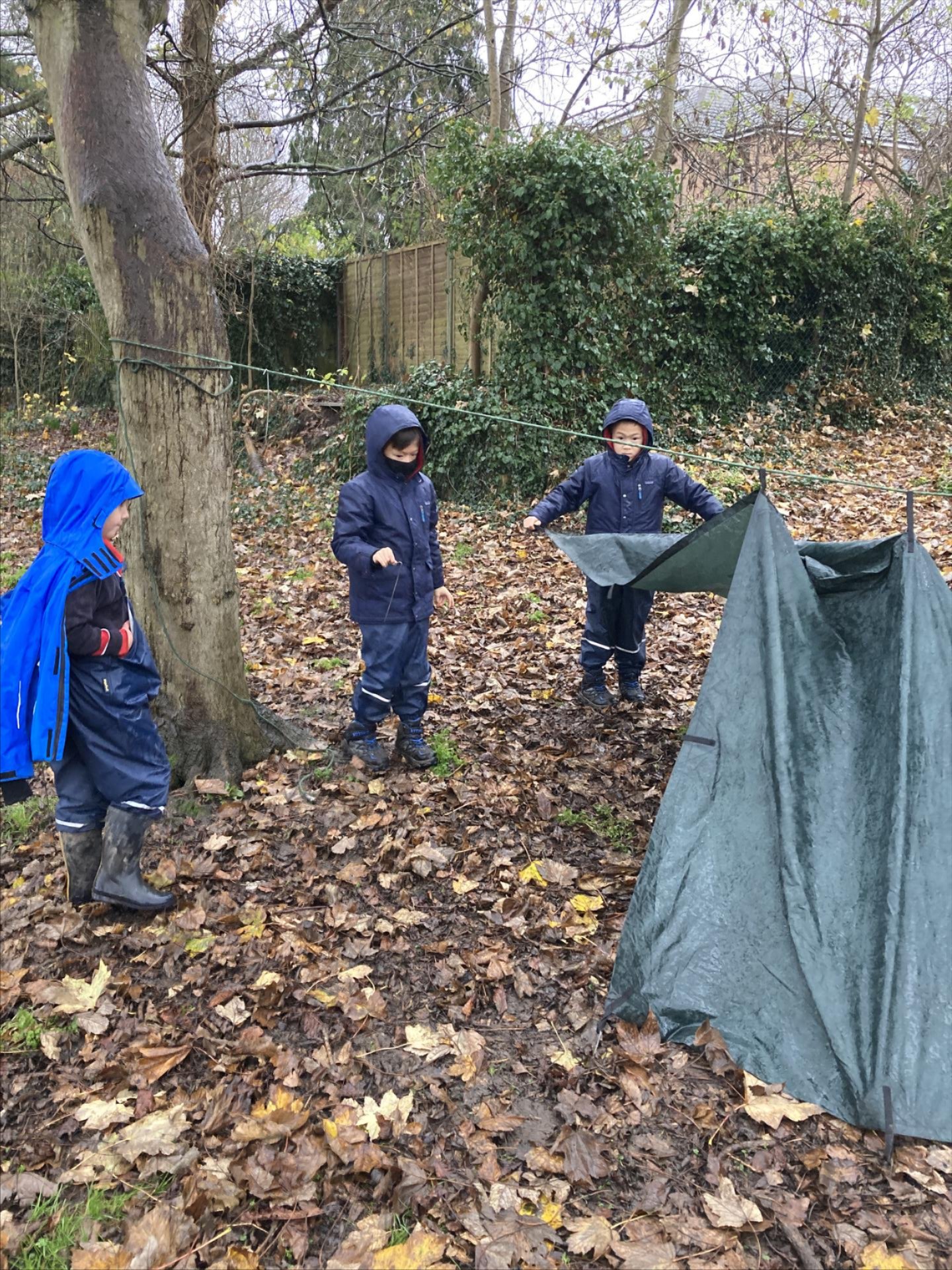 Add noreply@dwightlondon.myenotice.com to your address book to stop emails going to spam